Mac and Cheese Cups with Buttery Bacon Crumble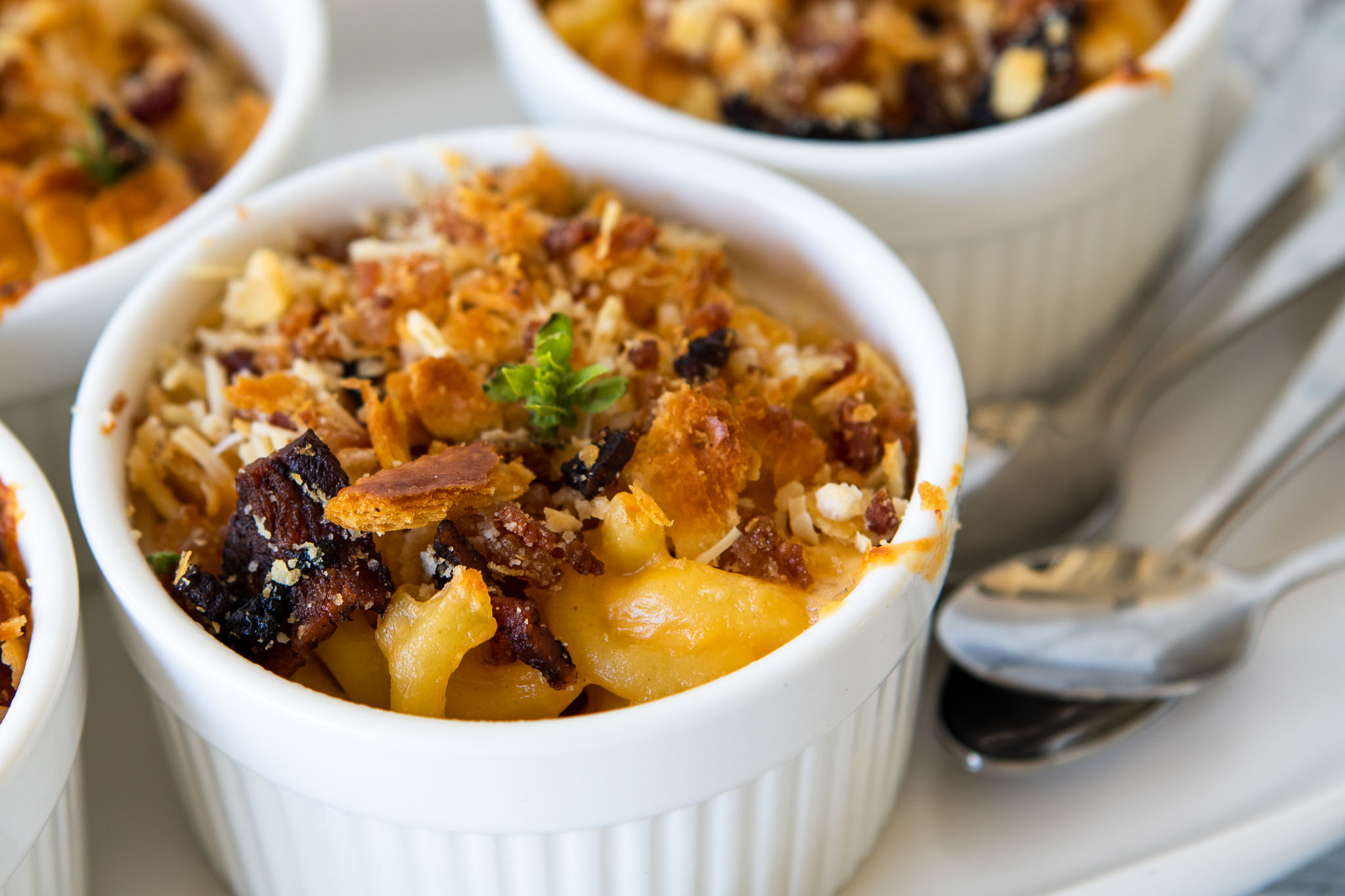 It's hard not to love mac and cheese, but this version of Mac and Cheese Cups with Buttery Bacon Crumble is off the charts!
It's hard for me to resist anything that's in a mini size (don't ask me why, but everything tastes better in little bites) and when I came across this mac & cheese recipe in little ramekins I thought "YES"!
Why are minis better?  Maybe it's that you think you'll be well-behaved and eat only the one that is set in front of you. You feel that you can handle eating just one.  Or maybe its because it makes a perfect little appetizer for a small gathering.  Whatever the reason, these little cups make me crazy!  
Let's break this recipe down…we begin with creating the topping.  Ritz crackers, crispy bacon and Parmesan cheese are all you need to top off the macaroni and cheese.  These three ingredients give you everything you need:  crunchy, buttery crackers, crispy bacon pieces and salty Parmesan cheese to give a crispy crunchiness to the top.
You make a sauce by creating a roux from the flour and butter.  Whisk in the milk until the sauce begins to thicken.  Go crazy adding all the cheeses and stir until it's all melted.  Add your cooked macaroni into the sauce, divide it among ramekins, top with the delicious bacon crumble, and bake away.  Fifteen minutes later, you have the most amazing mac & cheese you could imagine!
Lastly, if you make Mac and Cheese Cups with Buttery Bacon Crumble, be sure to leave a comment and/or give this recipe a rating! Above all, I love to hear from you and always do my best to respond to each and every comment. And of course, if you do make this recipe, don't forget to tag me on 
Instagram
! Looking through the photos of recipes you all have made is one of my favorite things to do!
Mac and Cheese Cups with Buttery Bacon Crumble
Makes: 18 individual servings
Prep Time: 5 minutes
Bake Time: 40 minutes
Total Time: 45 minutes
Ingredients
Topping:
30 Ritz crackers (butter crackers)

5 bacon slices, cooked

1/2 cup freshly grated Parmesan cheese
Cheese Sauce:
1/4 cup unsalted butter

1/4 cup flour

2 & 1/2 cups whole milk, warmed

2 cups grated sharp cheddar cheese

2 cups grated milk cheddar cheese

2 cups grated Swiss cheese

1/2 tsp kosher salt

1/4 tsp freshly ground black pepper

Pinch cayenne pepper
Instructions
Preheat oven to 350°F. Coat 18 (3×2-inch deep) individual ramekins (see Chef's Note) or one 9×13-inch baking dish with non-stick cooking spray. In a large pot of lightly salted water, cook pasta until just tender. Drain well and set aside.
For the topping, in a medium bowl, coarsely crumble crackers and bacon together. Mix in Parmesan cheese and toss to combine. Set aside.
In a large saucepan, melt butter over medium-low heat. Remove from heat and whisk in flour until smooth. Return to heat and whisk constantly for 2 minutes. Pour in the milk, whisking constantly for 5 minutes, until mixture has thickened and coats the back of a spoon.
Remove from heat and stir in the sharp cheddar, mild cheddar, Swiss cheese, salt, pepper and cayenne. Return to heat and stir just until cheese melts. Remove from heat and add cooked pasta and stir to combine. Transfer to prepared baking dishes and top with bacon and cracker crumble. Bake for 15 minutes (20 minutes for 13- x 9-inch baking dish) until golden on top and heated through.
Chef's Note: 
This recipe is meant to be an appetizer, served in small ramekins;  hence, the need for 18 of them.  You could also make half the recipe for a smaller number.  You can also make the full recipe but use a 9×13-inch baking dish.
Recipe from Lick Your Plate
Mac and Cheese Cups with Buttery Bacon Crumble