Mexican Corn Ribs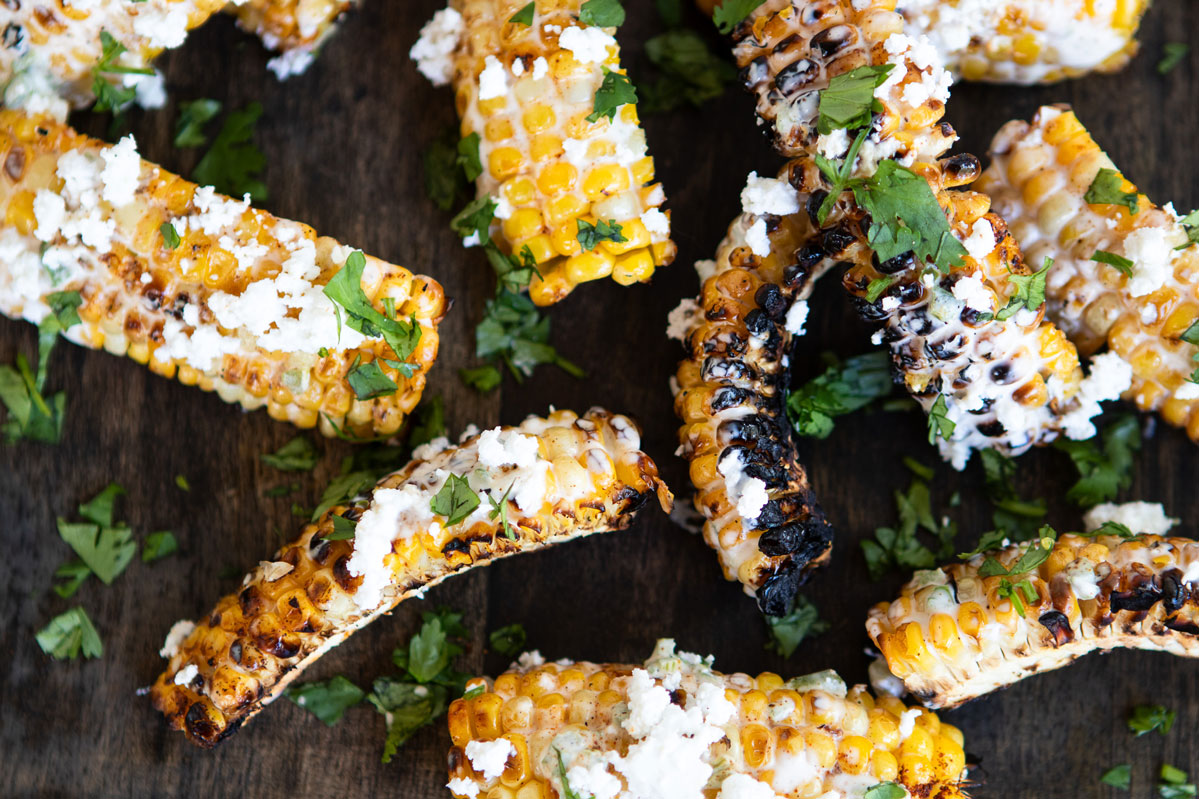 For an inventive way to cook corn, try Mexican Corn Ribs.  Pieces of corn are grilled and then slathered with a mayonnaise/sour cream sauce and topped with Cotija cheese and cilantro to make a novel corn-based side dish!
I'm not a follower of Instagram fads but this one caught my eye.  My friend, Yvette, turned me on to this cute way of preparing corn on the cob and I'm loving it. You know it's a hit when Trader Joe's starts offering them precooked in the freezer section!
When you grill thin wedges of corn on the cob, they curl up, and resemble a pork rib.  
They are easier to eat than a full piece of corn and are just so cute!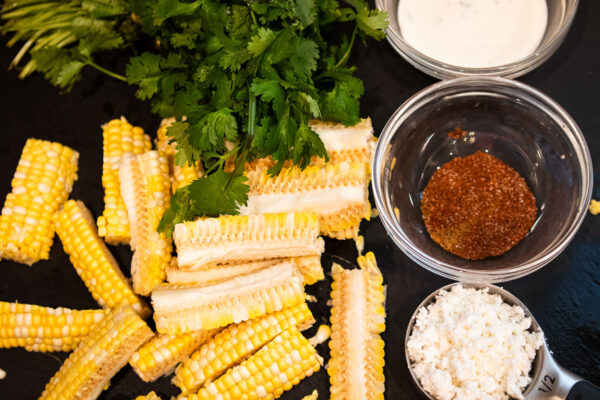 Begin by prepping the corn.  After removing the husk and cutting off a bit from each end to make a straight edge, cut the cob in half width-wise.  Then, stand a half up on its end and cut down the middle with a sharp knife.  Cut each of those halves in half again.  For this cut, I used a kitchen towel over the dull side of the knife to give me leverage and protect my hand.  Repeat this with all of the cob halves.
Combine all of the spices together in one bowl and combine the mayonnaise, sour cream, lime juice and jalapeño together in another bowl.
Lightly brush or spray olive oil over the corn pieces and sprinkle the spices over each piece.
Add the corn to a preheated grill, with the cut side down.  Close the lid and cook for about 8 minutes.  Flip the corn over and cook until lightly charred, another 4-6 minutes.
All that's left to do now is spread on some of the mayonnaise mixture, sprinkle the corn with Cotija cheese and fresh cilantro.  Ta-da!  Instagram-worthy Mexican corn ribs!!!
Lastly, if you make Mexican Corn Ribs, be sure to leave a review down below at the bottom of this page (stars are also appreciated)! Above all, I love to hear from you and always do my best to respond to each and every review. And of course, if you do make this recipe, don't forget to tag me on 
Instagram
! Looking through the photos of recipes you all have made is one of my favorite things to do!
Makes: 24 ribs
Prep Time: 10 minutes
Grill Time: 15 minutes
Total Time: 25 minutes
Ingredients
3 ears fresh corn

2 tbsp mayonnaise

2 tbsps sour cream

1 tbsp fresh jalapeño, minced

juice from 1/2 lime

1/2 tsp cumin

1/2 tsp paprika

1/4 tsp chili powder

1/4 tsp salt

1/2 cup cotija cheese, crumbled

1/3 cup fresh cilantro, chopped
Instructions
Heat grill to medium.
Clean corn ears from husks. With a sharp chef's knife, cut off the ends of the corn, cutting just above the top of the stem.
Use your knife to score corn ear in the middle, and the use your hands to gently break ears in half.
Stand the ears halves up on the cut end on the cutting board. Use your knife to gently apply pressure to the core, and rock the knife back and forth to slowly cut through the center of the core, rocking the knife back and forth to cut through the whole half, holding the corn steady.
Place the half core down on the cutting board, and use your knife to gently cut in half again, through the kernels. I find that if you double up a dish towel and hold it over the dull side of the knife blade, it helps cut through the dense core. Repeat with all corn.
In a medium bowl, add mayonnaise, sour cream, lime juice, and jalapeño and mix well. Mix spices in a separate small bowl.
Line ribs on a tray and spray (or brush) each rib with oil. Sprinkle some of the seasoning onto each rib.
Add ribs to grill, cut side down. Close lid and cook for about 8 minutes.
Open, flip ribs to other cut side and cook for another 4-6 minutes.
Transfer the ribs back to the tray. Brush on mayonnaise mixture, sprinkle with cheese, and top with fresh cilantro.
Recipe by Served from Scratch