Delicious Turkey Gravy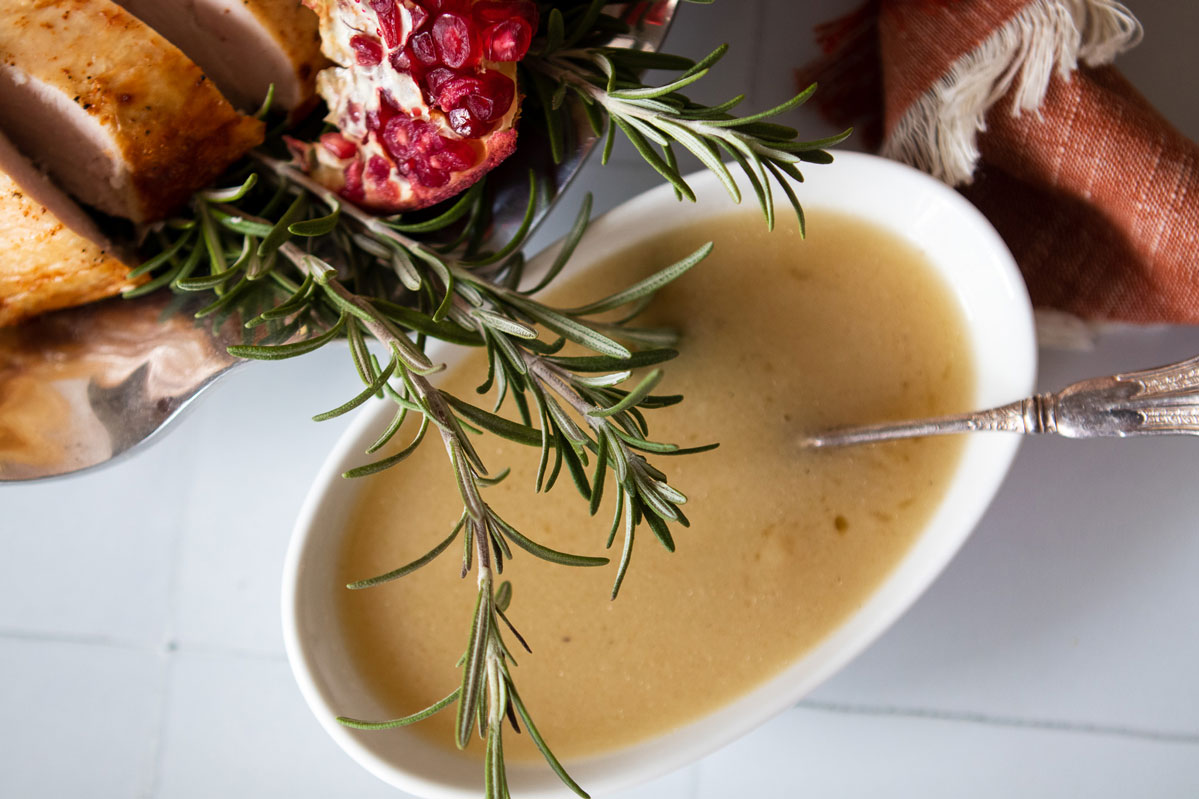 This Delicious Turkey Gravy is what needs to be on the thanksgiving table next to Overnight Turkey or next to any turkey you are serving!
All you have to do is save the drippings that pool under the roasted turkey and use them for this gravy.
This is not a thick gravy.  It's thickened by making a roux of unsalted butter and flour (a roux is simply melting the butter and adding the flour and cooking until the flour is cooked and the mixture turns a golden brown color).
You want 4 cups of drippings.  If you don't have that much, make up the difference using chicken stock.  Slowly pour the drippings into the roux, being sure to incorporate before adding more stock.  Keep stirring the entire time so that lumps don't form.  Continue to stir for 3-5 minutes until the gravy thickens up.
If you want a slightly thicker gravy, combine 2 tablespoons cornstarch with 2 tablespoons water and mix a bit at a time into the gravy until you reach your desired thickness.  But, this is supposed to be a thin, flavorful gravy.
Serve warm alongside the turkey.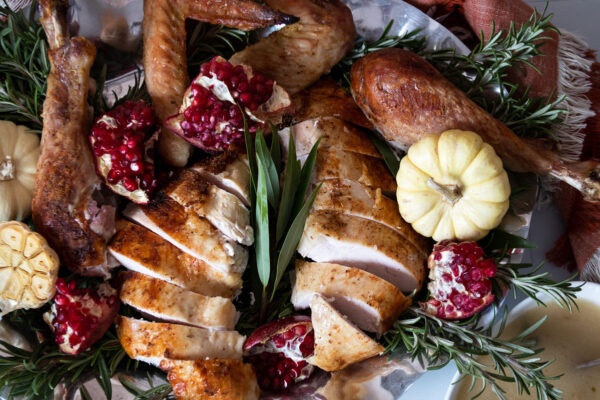 Lastly, if you make Delicious Turkey Gravy, be sure to leave a comment and/or give this recipe a rating! Above all, I love to hear from you and always do my best to respond to each and every comment. And of course, if you do make this recipe, don't forget to tag me on 
Instagram
! Looking through the photos of recipes you all have made is one of my favorite things to do!
Makes: 12
Prep Time: 5 minutes
Bake Time: 12 minutes
Total Time: 17 minutes
Ingredients
1/2 cup unsalted butter

1/4 cup flour

4 cups turkey drippings or chicken stock (if drippings don't yield 4 cups, add stock)

Salt and pepper
Instructions
In a heavy sauce pan, over low heat, melt the butter. Add the flour and stir until all the flour is incorporated and the mixture begins to turn a golden color, about 2 minutes. Keep stirring the whole time with either a wooden spoon or whisk, approximately 3-5 minutes.
Slowly add 3 cups of the drippings (save some in case you need to thin it) and keep stirring, approximately 5 more minutes. You do not want any lumps so add the liquid slowly making sure it has totally incorporated. If there are lumps, just keep stirring with a whisk. The gravy will thicken as it cooks. You do not want gravy that is too thick. You can use the remaining drippings to thin as necessary.
Add salt and pepper to taste.
Chef's Note:
If you want a thicker gravy, combine two tablespoons of water with two tablespoons corn starch and mix into the gravy a bit at a time until you have desired thickness.
Gravy can be prepared hours ahead . Place in refrigerator and then reheat prior to serving the turkey.