Nobu's Easy Miso-Glazed Black Cod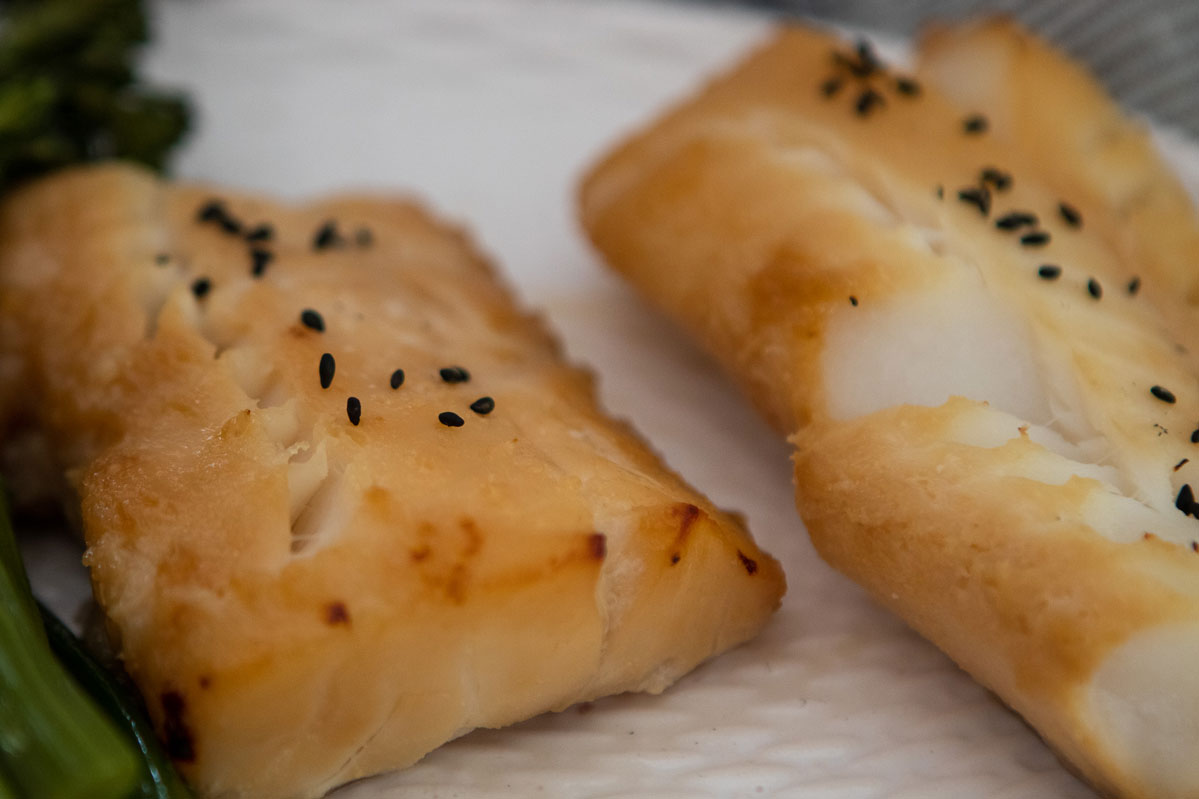 Nobu's Easy Miso-Glazed Black Cod is a recipe I can never get enough of!  The pairing of miso and cod is like peanut butter and jelly…they just go together.  And, while some of us may have been to Nobu or Spago where this dish was made famous, making it at home is a breeze.  It's so simple that it's part of my Easy Peasy category of recipes!  Just be aware that the cod needs to marinate overnight for the best flavor, so plan accordingly.
For the marinade, bring the sake and mirin to a boil for 30 seconds and then add the miso paste and soy sauce and stir until the paste is dissolved. Add the brown sugar and boil until it dissolves.  Cool the marinade to room temperature.
Once cool, place the fish in a resealable plastic bag and pour the marinade in.  Refrigerate the fish for 12-24 hours (the longer, the better).
If you are not a huge fan of cod, halibut or sea bass fillets work very nicely with this marinade.
Once the fish has been marinated, remove the fish from the marinade and place the fillets on an aluminum foil-lined baking sheet and pop into a hot 450°F oven.  Bake the cod for 6 or 7 minutes and then turn on the broiler to allow the glaze to caramelize.  Keep an eye on it so that it doesn't burn.
Nobu would be proud of you!
Lastly, if you make Nobu's Easy Miso-Glazed Black Cod, be sure to leave a review down below at the bottom of this page (stars are also appreciated)! Above all, I love to hear from you and always do my best to respond to each and every review. And of course, if you do make this recipe, don't forget to tag me on 
Instagram
! Looking through the photos of recipes you all have made is one of my favorite things to do!
Nobu's Easy Miso-Glazed Black Cod
Makes: 6 servings
Prep Time: 10 minutes
Cook Time: 20 minutes
Total Time: 30 minutes plus marinade time 12 hours minimum
Ingredients
Miso Marinade:
3/4 cup sake

3/4 cup mirin

1 cup white miso paste

2 tbsp soy sauce

1/2 cup packed brown sugar
6 (6oz) cod fillets (can also use halibut or sea bass)
Instructions
For the marinade, combine sake and mirin in a medium sauce- pan over high heat. Boil for 30 seconds. Turn heat to low and add miso paste and soy sauce, stirring until the paste is completely dissolved. Add brown sugar and turn the heat back to high, stirring continuously until sugar has dissolved. Remove from heat and cool to room temperature.
Pat the cod fillets dry with paper towels. Place fish in a large resealable plastic bag and pour in the marinade. Refrigerate 12-24 hours, turning fish occasionally.
Preheat oven to 450°F. Line a baking sheet with aluminum foil and coat with non-stick cooking spray.
Remove fish from marinade, lightly wiping off any excess marinade clinging to the fillets. Place cod on prepared baking sheet and bake 6-7 minutes. Finish fish under the broiler, 2-3 minutes, to get a glaze on top.
Recipe from Bite Me More
Nobu's Easy Miso-Glazed Black Cod