Paprika-Roasted Carrot Hummus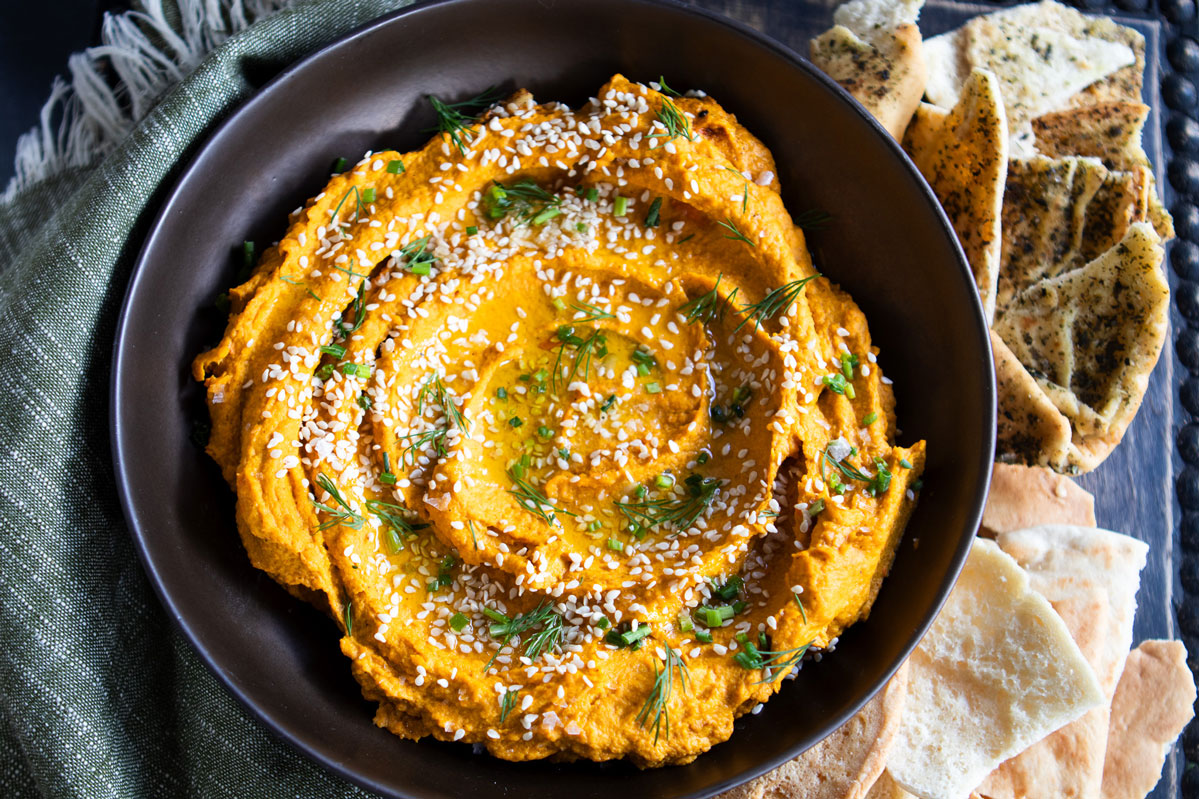 There are so many ways to make hummus but Paprika-Roasted Carrot Hummus is really special!  The vibrant color and smoked paprika flavor will make you want to serve it often!
It's very similar to a traditional hummus in that you purée chickpeas, garlic, tahini, olive oil, and lemon juice, but it gets an added zing when you roast carrots that have been seasoned with smoked paprika and purée them with the rest of the ingredients.  Give this recipe a try when you're in the mood for something less traditional!
Peel and slice carrots and season them with olive oil, smoked paprika and salt.  Toss them onto a sheet pan and roast them until they are tender, about 30-35 minutes.
Once the carrots are cooled slightly, purée them in a food processor or blender along with water, chickpeas, garlic, tahini, olive oil, lemon juice and zest and salt.  Top it with sesame seeds, fresh dill and chives, flaky sea salt and a drizzle of olive oil.
That's all it takes to have this lovely show-stopping appetizer!  Serve it with pita chips or crackers and enjoy!
Lastly, if you make Paprika-Roasted Carrot Hummus, be sure to leave a review down below at the bottom of this page (stars are also appreciated)! Above all, I love to hear from you and always do my best to respond to each and every review. And of course, if you do make this recipe, don't forget to tag me on 
Instagram
! Looking through the photos of recipes you all have made is one of my favorite things to do!
Paprika-Roasted Carrot Hummus
Makes: 8 servings
Prep Time: 15 minutes
Cook Time: 35 minutes
Total Time: 50 minutes
Ingredients
Roasted Carrots:
1 pound carrots, peeled & sliced 1/2-inch thick

1 tbsp smoked paprika

olive oil

kosher salt
Hummus:
1/4 cup ice cold water, plus more if needed

1 (15.5 oz) can chickpeas (no salt added), rinsed & drained

2 garlic cloves, roughly chopped

1/2 cup tahini

2 tbsp olive oil

2 tsp lemon zest

2 tbsp lemon juice

1 & 1/4 tsp kosher salt

1 tbsp sesame seeds

1 tbsp fresh dill leaves

1 tbsp chopped fresh chives

flaky sea salt

warm pita or pita chips, for serving
Instructions
For the roasted carrots, preheat the oven to 425°F. Line a sheet pan with parchment paper. Place the sliced carrots onto the sheet pan. Add the smoked paprika, a generous drizzle of olive oil, and a good pinch of salt. Toss to coat. Spread the carrots into an even layer. Roast for 30-35 minutes, or until tender. Let cool for about 10 minutes.
For the hummus, add the water, roasted carrots, chickpeas, garlic, tahini, olive oil, lemon zest, lemon juice, and salt to a high-powered blender (you could also use a food processor, but the blender will create the smoothest texture).
Blend until smooth and creamy, using a spatula to scrape down the sides of the blender a couple of times. If needed, add a little bit more water to help everything combine. Taste and add more salt if needed.
Plate the hummus with the sesame seeds, dill, chives, a pinch of flaky sea salt, and a drizzle of olive oil over top. Serve with warm pita or pita chips alongside.
Recipe by The Original Dish
Paprika-Roasted Carrot Hummus