Sausage Stuffing with Figs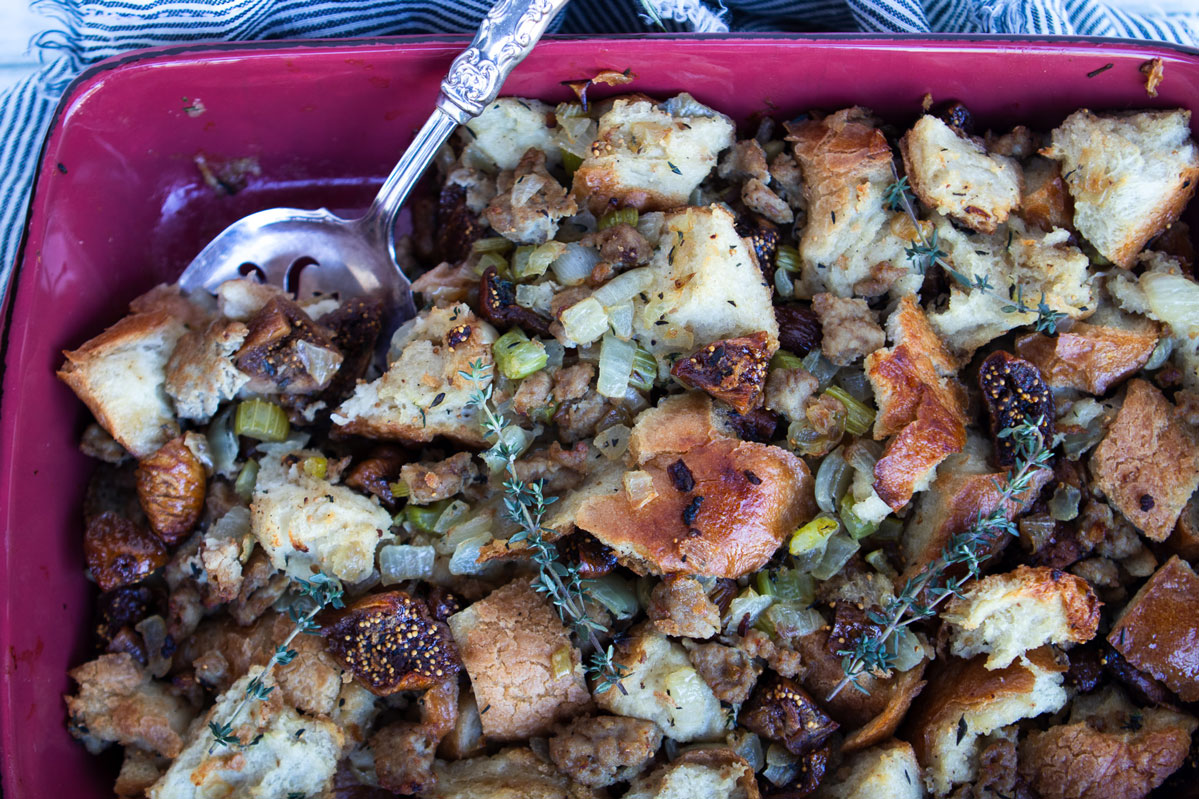 This delicious Sausage Stuffing with Figs is a wonderful addition to your holiday table!  The savory flavors of sausage and thyme combine beautifully with the sweetness from the figs.  The crispy topping complements the moist stuffing making this the ideal side dish for Thanksgiving!
This is a straightforward stuffing recipe.  Begin by browning Italian sausage (I like to use chicken sausage, but pork works equally well) and adding it to a bowl of torn baguette pieces.
Sauté the onions and celery until translucent.  Add the figs and cook for a few minutes.  Add the herbs.
Pour the celery mixture over the bread and sausage.  Pour warm chicken stock over and gently combine so that all of the bread pieces are moistened.  Let it sit for a bit so that the stock soaks in and then transfer the stuffing to a baking dish.
Cover it with foil and bake for 20 minutes.  Remove the foil and bake another 10-15 minutes or until the top is brown and crispy.  
You'll notice that I don't use eggs in the stuffing mixture.  I didn't feel it was necessary to hold the stuffing together but if you prefer, you can add two beaten eggs when you add the stock.
Let the stuffing cool for a few minutes and then serve.
Lastly, if you make Sausage Stuffing with Figs, be sure to leave a review down below at the bottom of this page (stars are also appreciated)! Above all, I love to hear from you and always do my best to respond to each and every review. And of course, if you do make this recipe, don't forget to tag me on 
Instagram
! Looking through the photos of recipes you all have made is one of my favorite things to do!
Sausage Stuffing with Figs
Makes: 12 servings
Prep Time: 20 minutes
Cook Time: 45 minutes
Total Time: 1 hour & 5 minutes
Ingredients
12 ounce baguette, torn into even pieces

8 tbsp unsalted butter, divided

8 ounces Italian sausage, casings removed (can use chicken sausage if preferred)

1 medium onion, diced

2 ribs celery, diced

14 dried mission figs, quartered

2 tbsp minced thyme

1 tbsp thinly sliced chives

2 & 1/2 cups warm chicken stock (or vegetable stock)

salt and pepper to taste
Instructions
Preheat oven to 375˚F. Place bread cubes in a large bowl.
Melt 2 tablespoons butter in a large skillet over medium-high heat. Add sausage, brown and crumble for 2 to 3 minutes. Drain with a slotted spoon and pour sausage over the bread cubes.
Melt remaining butter into the skillet and add onion and celery. Sauté for 4 to 5 minutes or until onion and celery becomes translucent. Season with salt and pepper. Add figs and continue to sauté for 2 to 3 minutes. Stir in thyme and chives.
Remove mixture from heat and pour over bread cube mixture. Toss mixture together. Then pour warm stock over the top. Fold mixture together until no dry spots remain and everything is well mixed.
Allow mixture to sit for about 6 to 8 minutes so any excess liquid can absorb into the mixture. Adjust seasonings.
Pour mixture into a 9 x 13-inch baking dish and cover with foil. Bake for 20 minutes, uncover and continue to bake for an additional 10 minutes. Remove stuffing from the oven and allow mixture to cool slightly before serving.
Recipe from Spoon Fork Bacon
Sausage Stuffing with Figs