Slow-Roasted Filet of Beef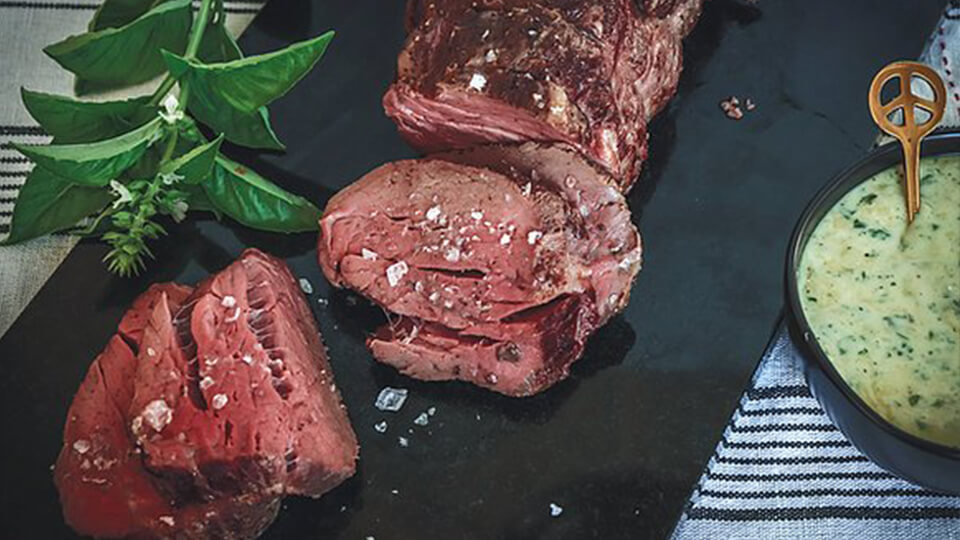 One of my favorite cuts of beef is the elegant beef tenderloin.  It is so flavorful which is surprising because it is so lean.  Which may be the reason that it is such an expensive meal to prepare (think filet mignon).  For this reason, it is critical that it be cooked properly.  There can be nothing more upsetting than to ruin a $90 piece of meat by overcooking it!
I have found the perfect way to cook it, thanks to the brilliant Ina Garten!  She introduced me to slow-roasting, and I have never looked back.  This tenderloin can be prepped in advance (the prep is ridiculously simple…just use kitchen twine to tie it tight every inch or so to help it keep its shape).  I like to bring it out of the fridge about an hour ahead of when I'm going to start cooking it.  It takes about two hours to slow-roast, so it gives you plenty of time to take care of the rest of your meal.  And, you don't have to tend to it at all…no basting, rotating, adjusting the heat.  Just let it go and two hours later, you have the most amazing tenderloin ever.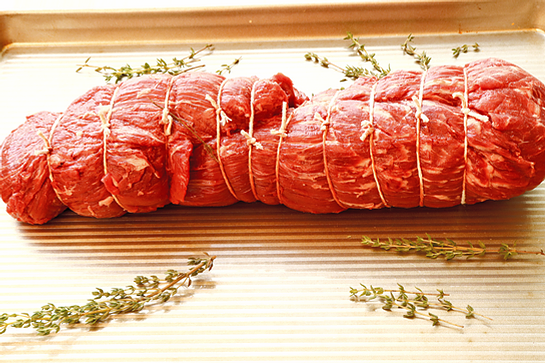 My family has never been big on turkey, so holidays like Thanksgiving always have this tenderloin accompanying the turkey.  Can you guess which platter gets emptied?  That's right…this tenderloin is beloved!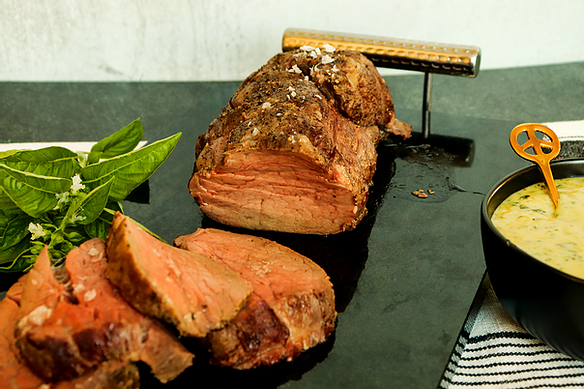 Lastly, if you make Slow-Roasted Filet of Beef, be sure to leave a comment and/or give this recipe a rating! Above all, I love to hear from you and always do my best to respond to each and every comment. And of course, if you do make this recipe, don't forget to tag me on 
Instagram
! Looking through the photos of recipes you all have made is one of my favorite things to do!
Slow-Roasted Filet of Beef
Makes: 6-8 servings
Prep Time: 5 minutes
Cook Time: 1 & 1/2 hours
Total Time: 2 hours
Ingredients
1 whole filet of beef tenderloin, trimmed and tied (4 & 1/2 pounds)

3 tbsp good olive oil

4 tsp Kosher salt

2 tsp coarsely ground black pepper

Basil Parmesan Mayonnaise, for serving (click on link)
Instructions
Preheat the oven to 275°F.  Use an oven thermometer to be sure your oven temperature is accurate.
Place the filet on a sheet pan and pat it dry with paper towels.  Brush the filet all over with the oil.  Sprinkle it all over with the salt and pepper (it will seem like a lot but believe me, it makes a difference).  
Roast the filet of beef for 1 1/4-1 1/2 hours, until the temperature registers 125°F in the center for rare and 135°F for medium-rare.  I place the thermometer horizontally through the end of the beef.  Cover the filet with aluminum foil and allow it to rest for 20 minutes. 
Slice thickly and serve warm or at room temperature with Basil Parmesan Mayonnaise.
Recipe adapted from Ina Garten
Slow-Roasted Filet of Beef