Smoky Breakfast Pizzas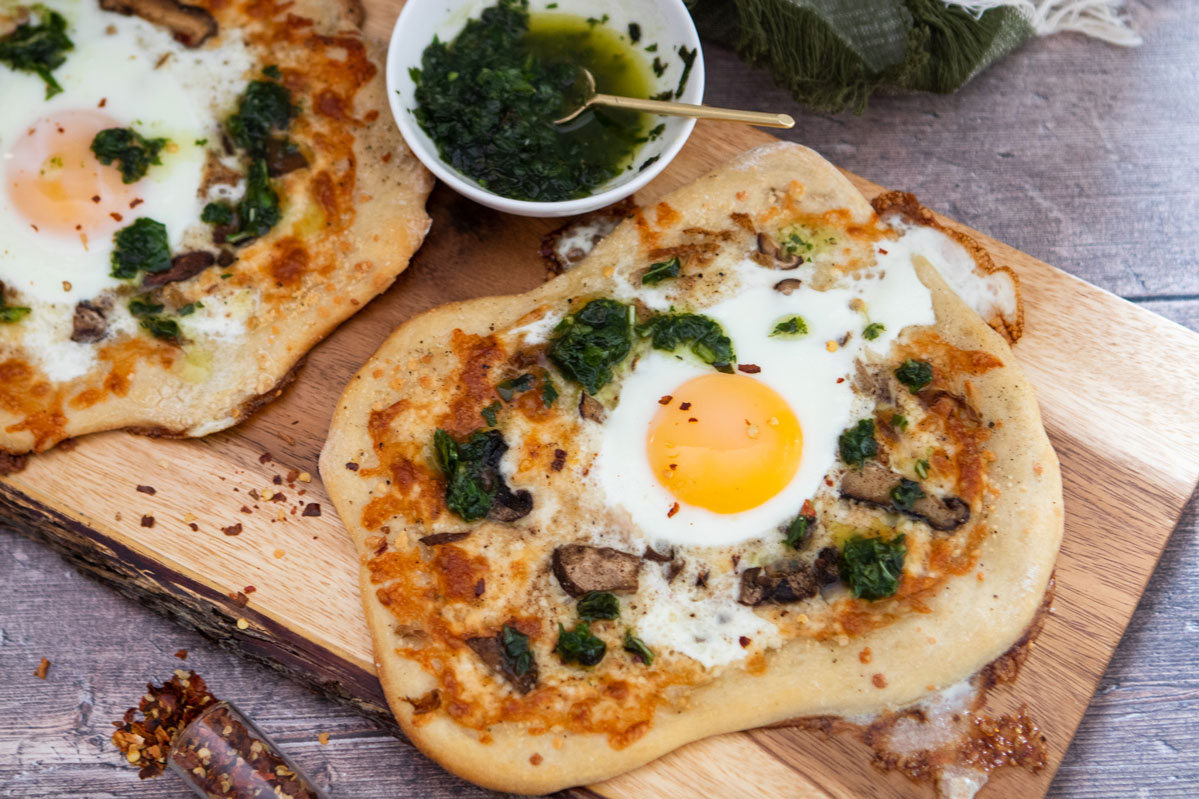 Smoky Breakfast Pizzas….pizza for breakfast?  Just ask my brother, Ron.  But Ron's breakfast pizza would be leftover pepperoni pizza from a night or two ago. Since none of us would do that anymore, let's elevate it a bit and try a pizza with smoked mozzarella and pecorino Romano cheeses, mixed wild mushrooms and an egg, of course!  Top it all with a delicious basil oil and you have the perfect way to start your morning!  It's also great for leftover dinner. That's flipping the world on its side, don't you think?? 
You may be tempted to use regular mozzarella cheese for this pizza but I highly encourage picking up some smoked mozzarella.  It has such a deep smoky flavor and it truly makes the pizza, along with the salty pecorino Romano.  Don't skip it!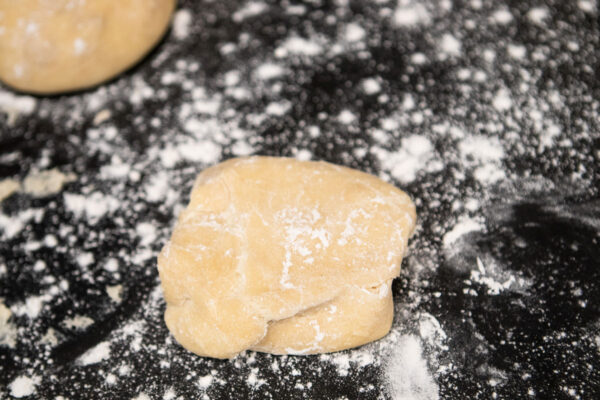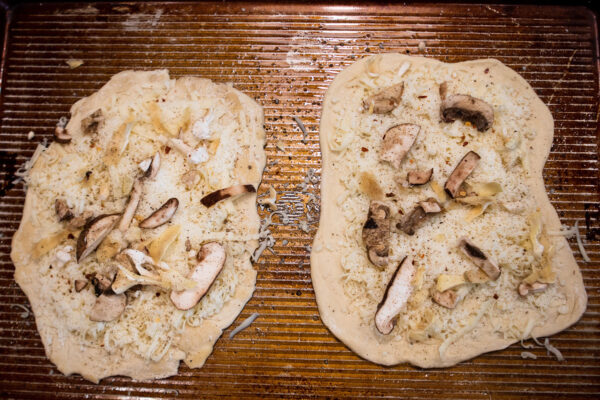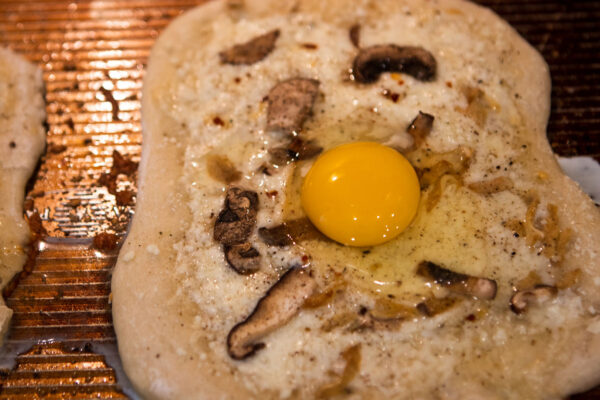 These pizzas are easy when you use store-bought pizza dough.  Just cut the dough into 4 pieces and let them sit until they reach room temperature.
While that's happening, make the basil oil by pulsing fresh basil leaves, olive oil and garlic in a food processor until it's combined and the basil is chopped.  Season it with salt and pepper and set it aside.
Working with one piece of dough at a time, stretch the dough into a 7-inch circle.  It doesn't have to be precisely a circle.  As you can see, mine are irregular-shaped, which makes them that much more charming!
Sprinkle each dough circle with the cheeses and mushrooms.  Season with salt, pepper and crushed red pepper.  Bake until the crusts are puffed and starting to brown.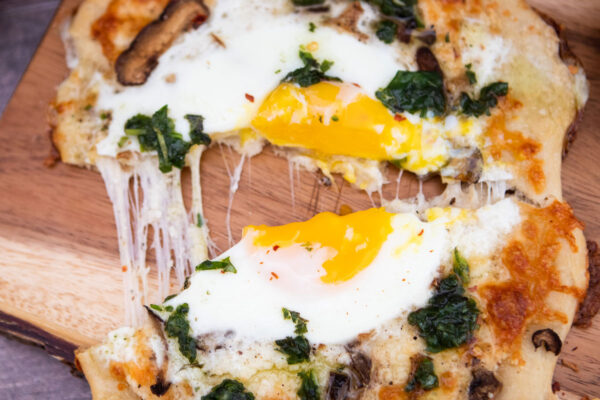 Remove them from the oven and crack an egg into a well you've formed on the top of each pizza.  Return the pizzas to the oven and back until the whites are set but the yolks are still runny.  This will take between 5 and 7 minutes.
Remove them from the oven and drizzle some basil oil on top.  Serve them right away and enjoy your morning!
Lastly, if you make Smoky Breakfast Pizzas, be sure to leave a review down below at the bottom of this page (stars are also appreciated)! Above all, I love to hear from you and always do my best to respond to each and every review. And of course, if you do make this recipe, don't forget to tag me on 
Instagram
! Looking through the photos of recipes you all have made is one of my favorite things to do!
Makes: 4 pizzas
Prep Time: 15 minutes
Bake Time: 16 minutes
Total Time: 31 minutes
Ingredients
1 cup loosely packed fresh basil leaves (about 1/2 ounce)

1/4 cup plus 2 tablespoons extra-virgin olive oil, plus more for greasing pans

1 small garlic clove, finely grated

Kosher salt, to taste

Black pepper, to taste

1 pound fresh prepared pizza dough or store-bought pizza dough, cut evenly into 4 pieces, at room temperature

All-purpose flour, for dusting

6 ounces smoked mozzarella cheese, shredded (about 1 & 1/2 cups)

2 ounces pecorino Romano cheese, grated (about 1/2 cup)

1/2 cup thinly sliced fresh mixed wild mushrooms

Crushed red pepper, to taste

4 large eggs
Instructions
Process basil, oil, and garlic in a food processor until smooth, about 25 seconds. Transfer to a small bowl; season with salt and black pepper to taste.
Preheat oven to 450°F with racks in upper third and lower third positions. Lightly grease 2 baking sheets with oil. Dust 1 dough piece with flour, and place on a lightly floured work surface; stretch into a 7-inch circle. Transfer to prepared pan. Repeat with remaining dough pieces.
Sprinkle dough circles evenly with mozzarella, pecorino, and mushrooms, leaving a 1/2-inch border for the crust. Sprinkle pizzas with salt, black pepper, and crushed red pepper to taste. Bake in preheated oven until crusts are puffed and starting to brown, 7 to 9 minutes.
Remove pizzas from oven. Using the back of a spoon, make a small well in center of each pizza. Crack 1 egg into each well. Return pizzas to oven, rotating pans between top and bottom racks from previous bake. Bake at 450°F until egg whites are set but yolks are still runny, 5 to 7 minutes. Serve with basil oil.