Sweet Corn Gazpacho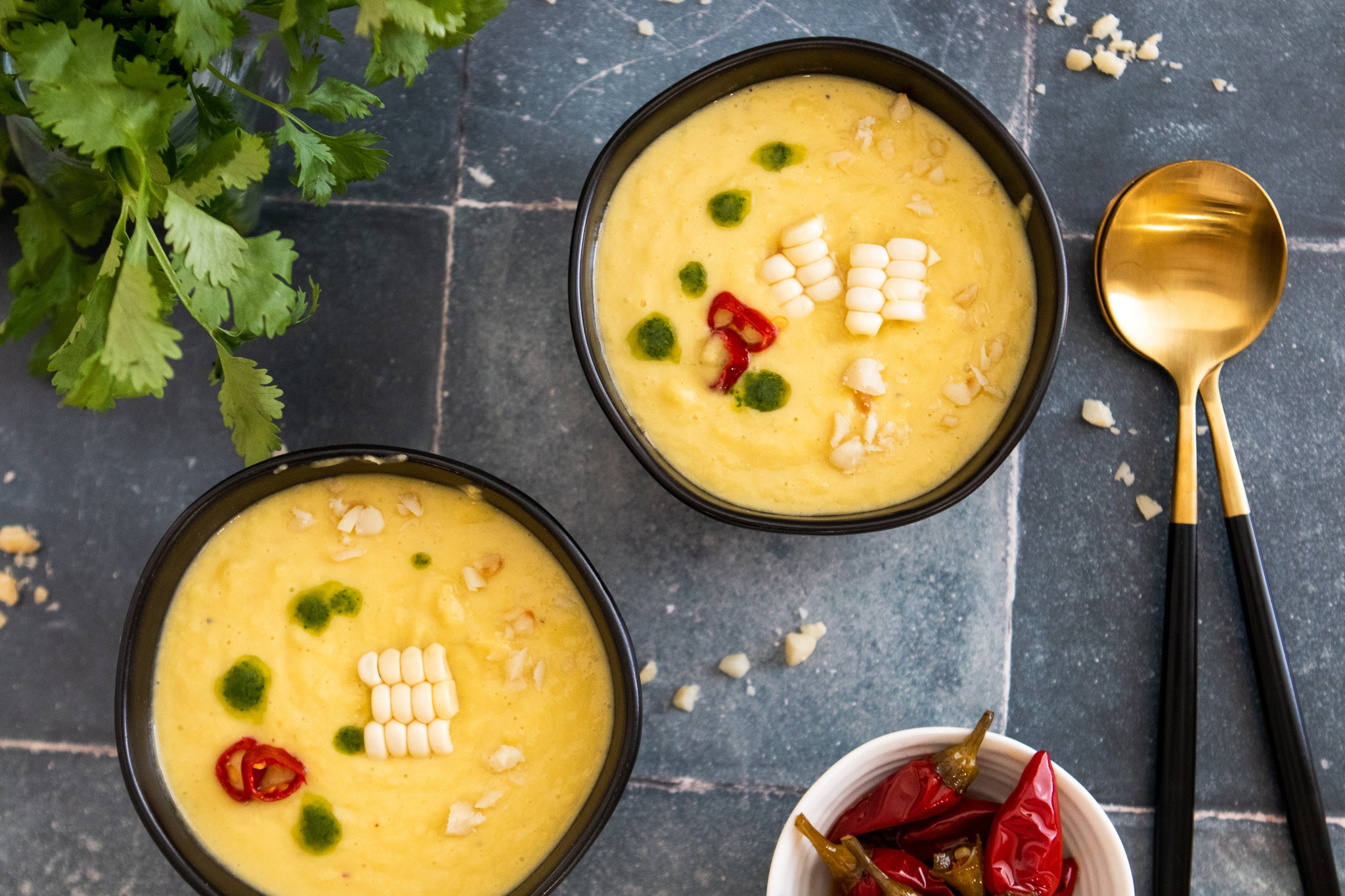 My beautiful, brilliant and hilarious friend, Deb, served me this Sweet Corn Gazpacho one night and I was hooked!  Creamy goodness combined with a touch of heat and a bit of spice works beautifully with the sweet corn flavors.  I just couldn't stop eating it!
In one spoonful, there is an explosion of flavors and textures.  The base is a cold sweet corn soup that's healthy and delicious.  There is no cream in it, even though it tastes so creamy.  There is a hint of turmeric, which gives it great depth.  It's topped with a lovely cilantro oil, spicy Calabrese chile slices, chopped macadamia nuts and crunchy corn kernels.  I'm telling you, this soup is divine!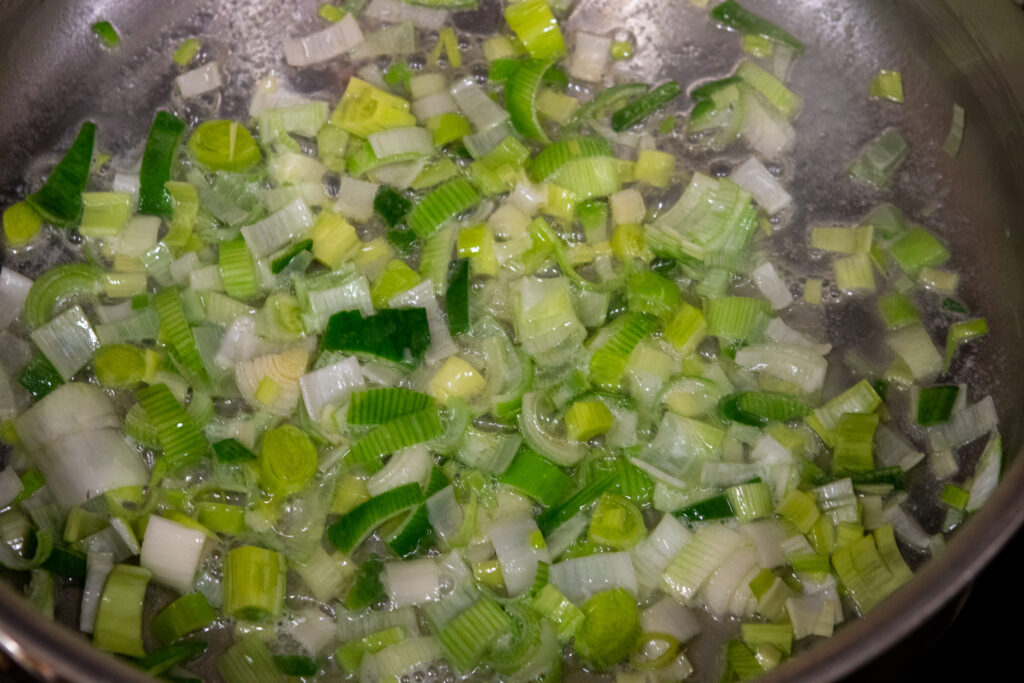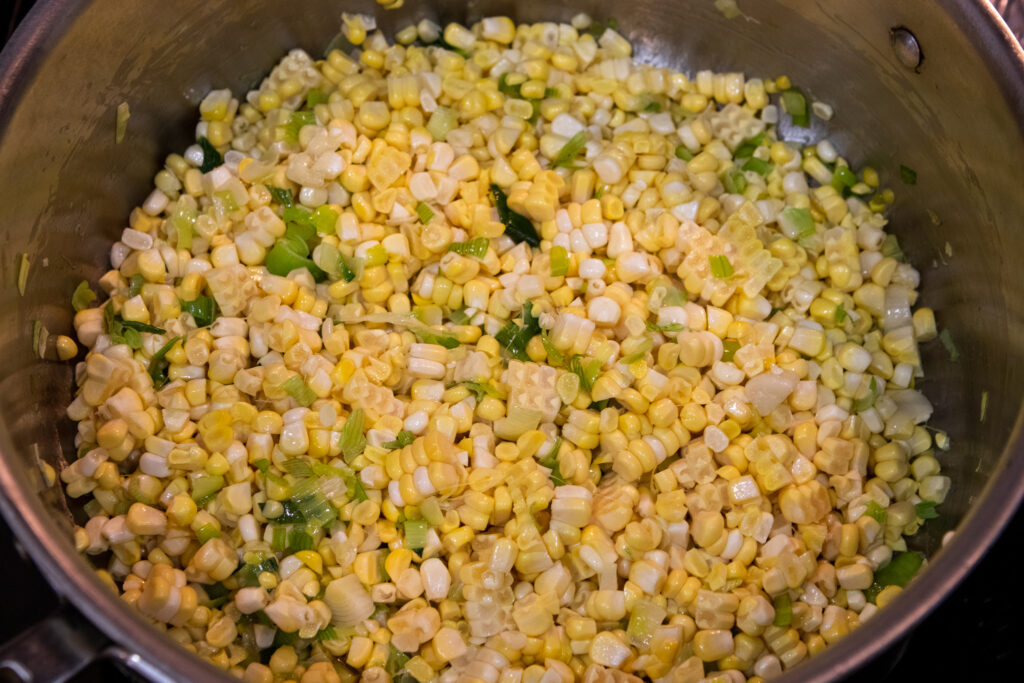 Begin this gazpacho by sautéing leeks in butter until soft.  Add the sweet corn kernels and continue to sauté.  The turmeric and garlic gets added until fragrant and then there's a quick simmer in vegetable stock.
Let it cool for a bit and then purée it in a blender.  Be careful when you are puréeing something hot:  go slow.  If you have different speeds on your blender, use the lowest speed.  Also, only fill the carafe half full.  You might also want to open a corner of the lid a tiny bit so that the steam can escape.  Just be careful it doesn't splash out (that's why I like to fill it only halfway).  
After it's smooth to your liking (you can blend it to a silky texture or leave it a little chunkier…I prefer it chunkier, but you do you), add lime zest and juice, cool it to room temperature and then refrigerate it.
While it's chilling, make the cilantro oil.  It's simply olive oil, cilantro, green onion and garlic.  Blend it, strain it and dabble it across the top of your soup before serving.
I love the other accoutrements as well!  The original recipe called for pickled Fresno chile slices, which would give it the pretty red color and a bit of a sweetened heat.  I couldn't find them ANYWHERE (Jeez, I looked everywhere) so I used Calabrese chiles.  Same red color but a more intense heat.  I liked it a lot! 
Finish the gazpacho with a sprinkling of chopped Macadamia nuts and raw corn kernels and I'm telling you, every spoonful will be an event!  Happy chowing!
Lastly, if you make Sweet Corn Gazpacho, be sure to leave a comment and/or give this recipe a rating! Above all, I love to hear from you and always do my best to respond to each and every comment. And of course, if you do make this recipe, don't forget to tag me on 
Instagram
! Looking through the photos of recipes you all have made is one of my favorite things to do!
Makes: 6-8 servings
Prep Time: 20 minutes
Cook Time: 20 minutes minutes
Total Time: 40 minutes plus chill time 1 hour
Ingredients
Gazpacho:
3 tbsp unsalted butter

1 leek, cleaned well and chopped

Kosher salt and freshly ground black pepper

6 ears fresh sweet corn, kernels removed (save some kernels for garnish)

1/2 tsp ground turmeric

1 clove garlic, minced

4 cups vegetable stock, plus more if needed

Zest and juice of 1 lime

Calabrese chile slices or pickled Fresno chile slices, for serving

Cilantro Oil, recipe follows

Crushed macadamia nuts, for serving

Corn Kernels, for serving
Cilantro Oil:
1/4 cup olive oil

1/3 bunch fresh cilantro, leaves and tender part of the stems

1/2 green onion, roughly chopped

1/2 clove garlic

Kosher salt and freshly ground black pepper
Instructions
Heat the butter in a Dutch oven over medium heat. Add the leek and season with salt and pepper. Sauté the leek until soft but not browned, about 5 minutes. Add the corn kernels and cook 6 to 8 minutes, stirring from time to time. Add the turmeric and garlic and cook until fragrant, about 1 minute. Add the stock, bring to a simmer and cook until the corn is soft, another 6 to 8 minutes. Let cool for 10 minutes.
Transfer the mixture to a blender in batches, pouring only until blender is half full. Add the lime zest and juice, season with salt and pepper and blend until very smooth (see Chef's Note below). Taste and adjust the seasoning if necessary. Let cool, then refrigerate the mixture until chilled, at least 1 hour.
When ready to serve, blend the mixture again, adding more stock if needed. Garnish with a couple pickled Fresno slices, a swirl of Cilantro Oil, some crushed macadamia nuts and corn kernels.
Cilantro Oil:
Put the olive oil, cilantro, green onion and garlic in a blender and process until smooth. Pour through a fine-mesh strainer into another bowl; season with salt and pepper. If necessary, whisk in a tablespoon of water at a time, up to 1/4 cup. Season to taste and transfer to a squeeze bottle to garnish the soup.
Recipe by Jeff Mauro