Chickpea Shawarma Dip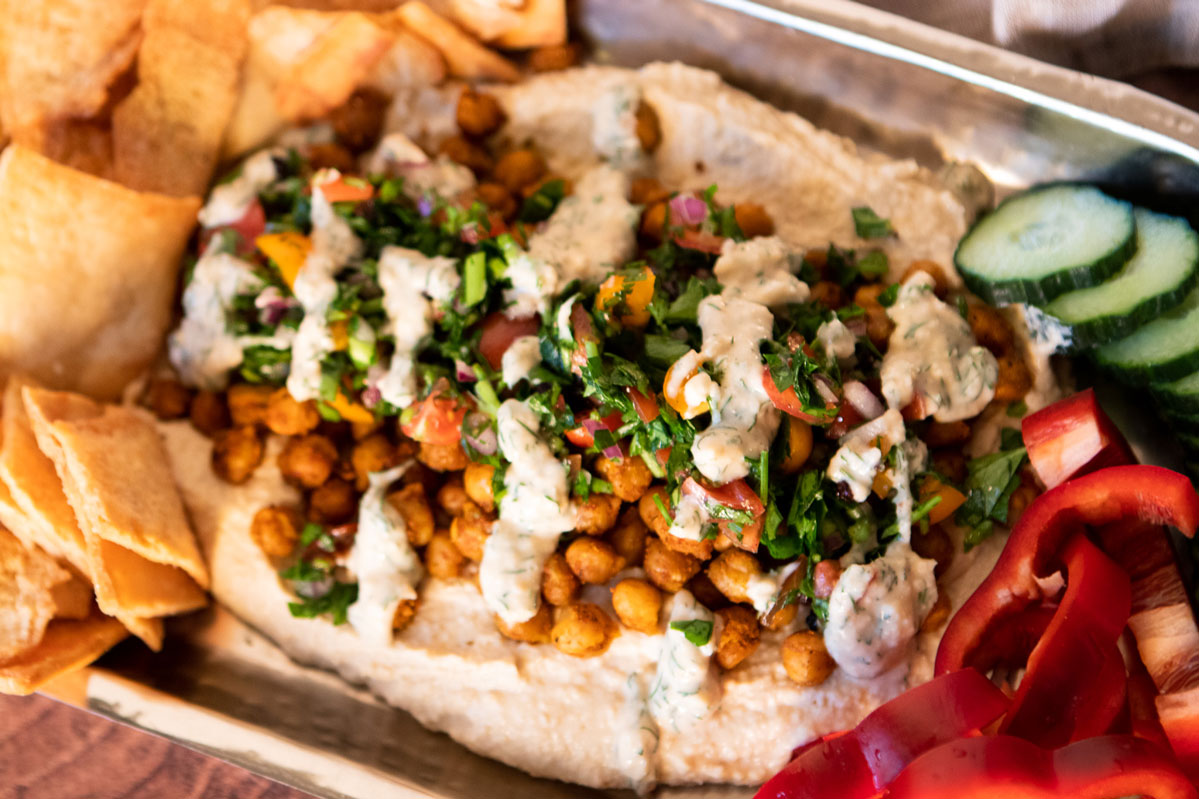 Chickpeas on chickpeas on chickpeas is what this Chickpea Shawarma Dip is all about!  Load  up hummus with crispy shawarma-spiced chickpeas and top with a garlicky hummus-based sauce…what more in Middle-Eastern deliciousness could you ask for?? 
What exactly is Shawarma?  My friend, Fran, who I traveled to Israel with, could tell you all about it, but in a nutshell, Shawarma is a classic Levantine Arab dish of meat (lamb, chicken, turkey, beef, or mixed meats) seasoned and placed vertically on a spit and slow roasted. It's typically sliced thinly and served with tabbouleh, fattoush salad, bread, tomato, and cucumber and various sauces. Though considered a Turkish dish by origin, it's enjoyed through the Middle East and Mediterranean region in various forms. 
In place of meat in this dish, we opt for chickpeas.
Shawarma spice blends were created in the Middle East and used to add flavor and spice to the rotisserie meats. Common spices include cinnamon, nutmeg, clove, all spice, and cayenne. 
The chickpeas in this recipe are tossed in shawarma-inspired spices and baked until crispy and golden brown. Swoon!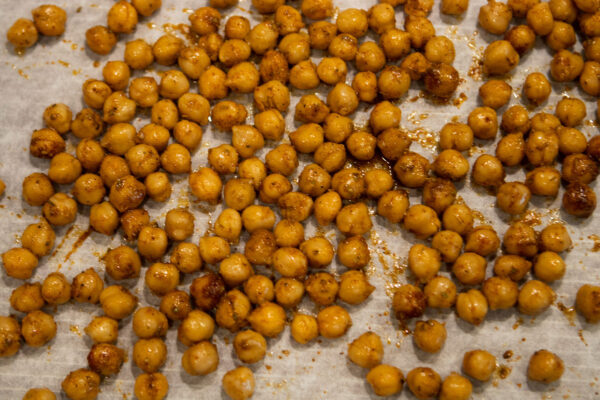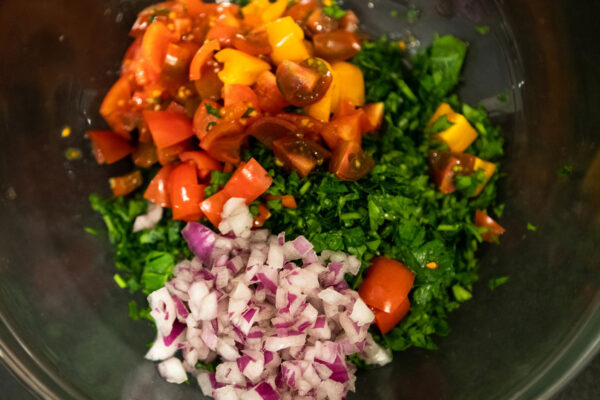 Begin by baking the chickpeas (use canned ones).   Toss the chickpeas with a little olive oil, sugar and spices (smoked paprika, cumin, turmeric, oregano and salt & pepper).  Bake them for 20 minutes or until they are browned and crisp.
Then, make the Garlic Herb sauce by combining  hummus, lemon juice, dill, garlic and a little water in a mixing bowl, adding more water if necessary to make a pourable sauce.
Finally, prepare the parsley-tomato salad.  This is similar to a tabouleh but without the couscous.  Lots of parsley, diced tomatoes and red onions are mixed with lemon juice and olive oil and seasoned with salt and pepper.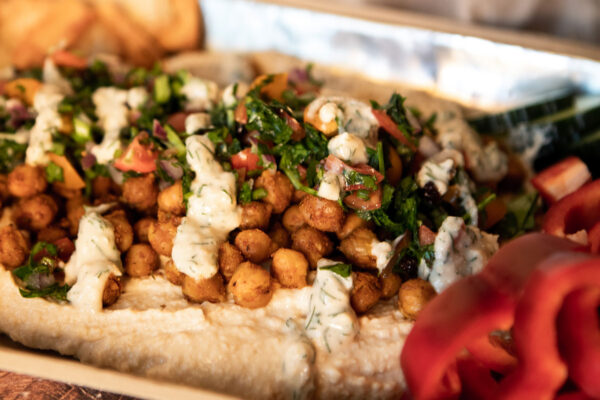 The baked chickpeas are set over a spread of hummus.  You can keep it simple and purchase hummus or you can spend 5 minutes and make the most delicious homemade hummus you've ever had!   Top the crispy chickpeas with the Parsley salad and drizzle the Garlic Herb Sauce over the whole shebang.  If you like some heat, sprinkle a bit of chili garlic sauce over it all.
Serve with veggies of your choice,  pita bread and/or pita chips.
This is the perfect appetizer for vegans, vegetarians and meat-eaters alike!
Lastly, if you make Chickpea Shawarma Dip, be sure to leave a review down below at the bottom of this page (stars are also appreciated)! Above all, I love to hear from you and always do my best to respond to each and every review. And of course, if you do make this recipe, don't forget to tag me on 
Instagram
! Looking through the photos of recipes you all have made is one of my favorite things to do!
Makes: 6 servings
Prep Time: 10 minutes
Bake Time: 20 minutes
Total Time: 30 minutes
Ingredients
Chickpeas:
1 (15-ounce) can chickpeas (well drained)
1 tbsp olive or avocado oil
1 tsp sugar
1/2 tsp smoked paprika
1/2 tsp ground cumin
1/2 tsp ground turmeric
1/2 tsp dried oregano
1/2 tsp sea salt
1/4 tsp black pepper
Garlic Herb Sauce:
1/4 cup hummus (store-bought or homemade)
1 tbsp lemon juice
3/4 – 1 tsp dried dill (or 2-3 tsp fresh)
3 cloves garlic, minced
Water or unsweetened almond milk (to thin)
Parsley Salad:
1 cup packed finely chopped parsley
1/2 cup diced cherry or roma tomatoes
1/4 cup diced red onion
1 tbsp lemon juice
1 tbsp olive oil
1 pinch each sea salt and black pepper
Hummus:
16 ounces hummus (store-bought or DIY)
For Serving:
Pita chips or fresh pita
Vegetables (cucumber, red pepper, etc.)
Chili garlic sauce (I love Huy Fong Foods brand)
Instructions
Preheat oven to 375°F and add well-drained chickpeas to a mixing bowl.
Top with oil, sugar, and spices and toss to combine. Spread on a bare or parchment-lined baking sheet. Bake for 20-22 minutes or until deep golden brown and fragrant. Set aside.
In the meantime, prepare your sauce by adding all ingredients to a mixing bowl and whisking to combine, only adding enough water or almond milk to thin so it's pourable. Taste and adjust seasonings as needed. Add more garlic for more zing, salt for savoriness, lemon juice for freshness, and dill for a more intense herb flavor. I found mine didn't need anything else.
Lastly, prepare parsley-tomato salad by adding parsley, tomato and onion to a small mixing bowl and dressing with lemon juice, olive oil, salt, and pepper. Toss and set aside.
To serve, spread hummus on a serving platter and top with roasted chickpeas, parsley salad, and garlic dill sauce. I also love garnishing mine with chili garlic sauce for extra heat! Perfect with pita, pita chips, or veggies of choice.
Best when fresh, though leftovers keep in the refrigerator up to 3 days (store hummus, salad, chickpeas ,and sauce separately for best results).