Corned Beef with Maple Glaze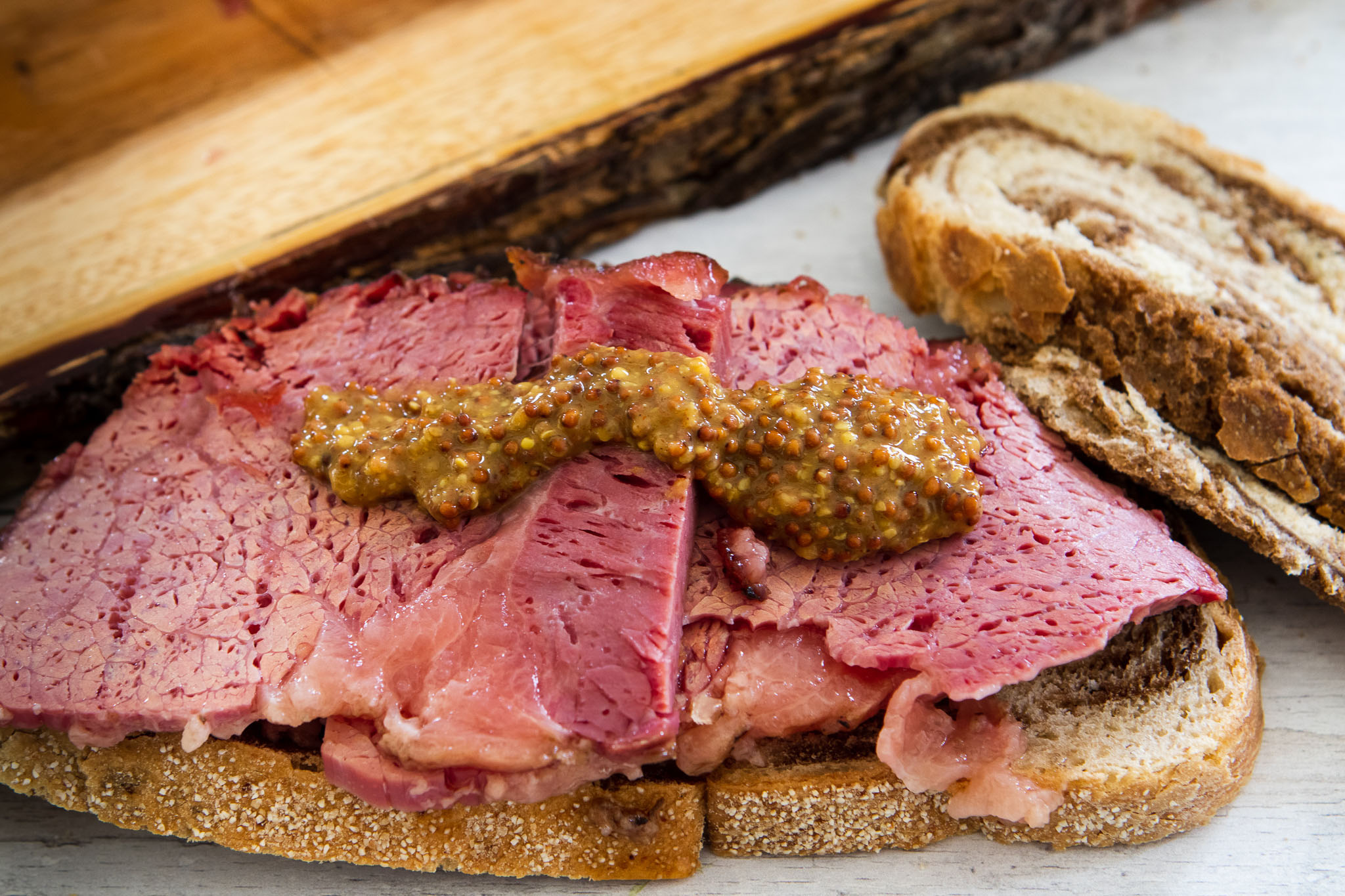 We are quickly approaching St. Patrick's day and in a nod to my honey and his Irish roots, I chose to feature Corned Beef with Maple Glaze.  Not only is the corned beef delicious, but throw a little maple syrup and brown sugar on the top and you've got a winner!
There's a situation that I vividly remember about corned beef with maple glaze.  It was about 15 years ago and I was hosting a party at my home for about 75 people.  I decided to hire a caterer, and since it was a Jewish affair, I decided to have corned beef  with maple glaze as part of the buffet (I'm sure there is an historical significance with Jewish people and corned beef, but that's another post at another time).  The caterer was a one-man show…chef, sous-chef, server, dishwasher…a very hard worker, no doubt!  He was also using my kitchen as his kitchen, and since we Jews love our food and kitchens, there were a bunch of folks hanging around this spot.
In any event, as he was rotating the corned beef in the pan, he dropped it on the floor.  A collective gasp was heard and everything came to a slo-mo moment.  My brilliant sister, having children of her own, yelled out "5 second rule!".  He dropped to the floor, scooped it up, and put it back in the oven.
The slo-mo ended, the party carried on and dinner was served about 15 minutes later (after any floor cooties could be cooked off of the beef).
No idea why I am telling you all this, except to say that stuff happens, and we all lived to tell about it!  Oh, and because it was the best corned beef I ever had.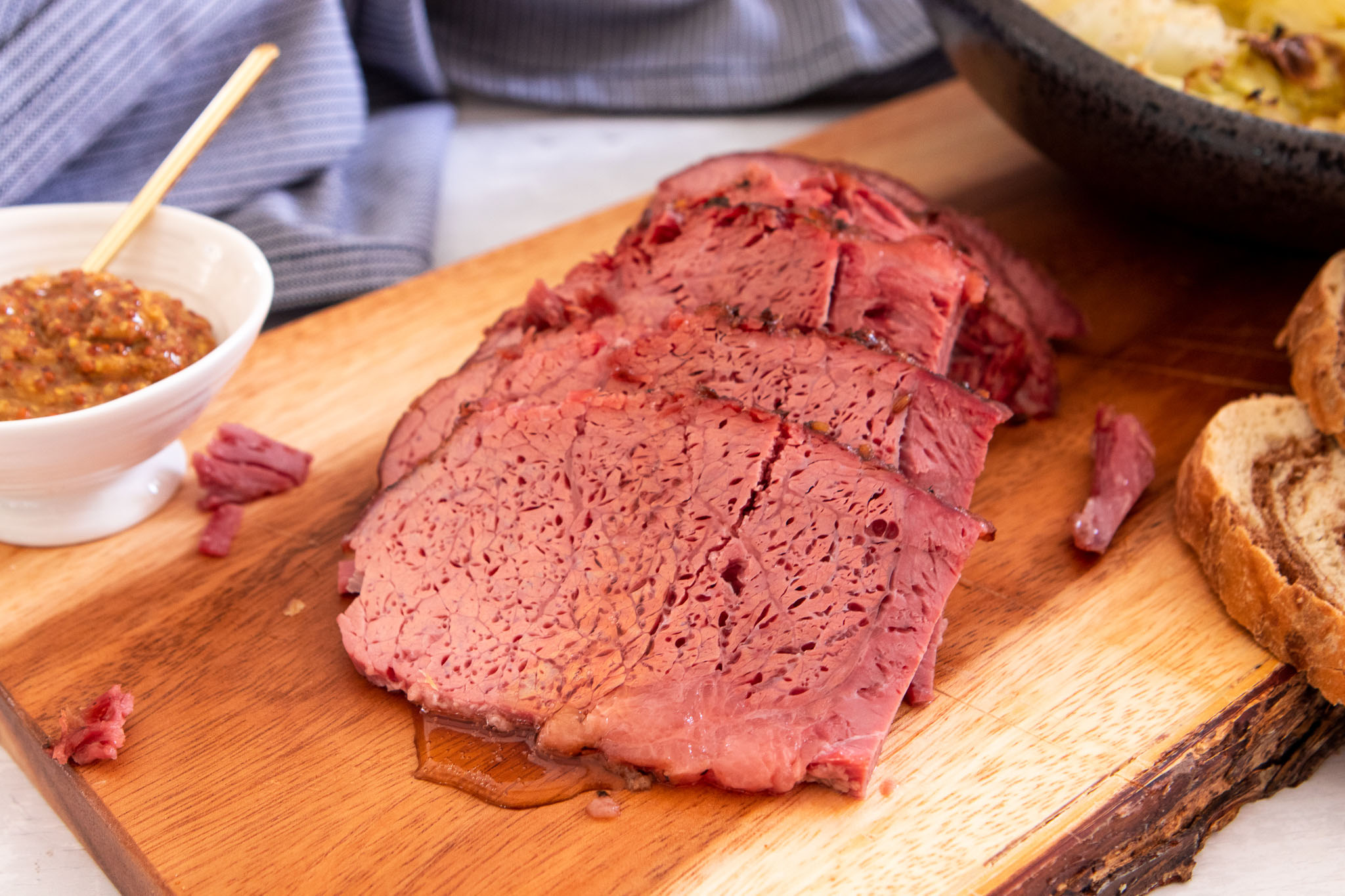 This is a very easy recipe.  You need to have time to properly cook the corned beef.  It needs to be very tender and that will take about 2 & 1/2-3 hours of boiling.  Besides that, there's nothing to it!
Place the brisket along with onion, garlic, spices, beef broth and water into a large stockpot and boil away!  Once nice and tender, remove it from the liquid and set it in a roasting pan.  Brush the maple syrup over it, sprinkle it with brown sugar and broil it until the top gets a little caramelized.  
I love to serve this with Grilled Cabbage.  This is a wonderful way to serve cabbage and I highly recommend it!  I also love corned beef with maple glaze in a sandwich.  Serve it on a marbled rye bread with sauerkraut or coleslaw, slather on some coarse-grained mustard and enjoy yourself!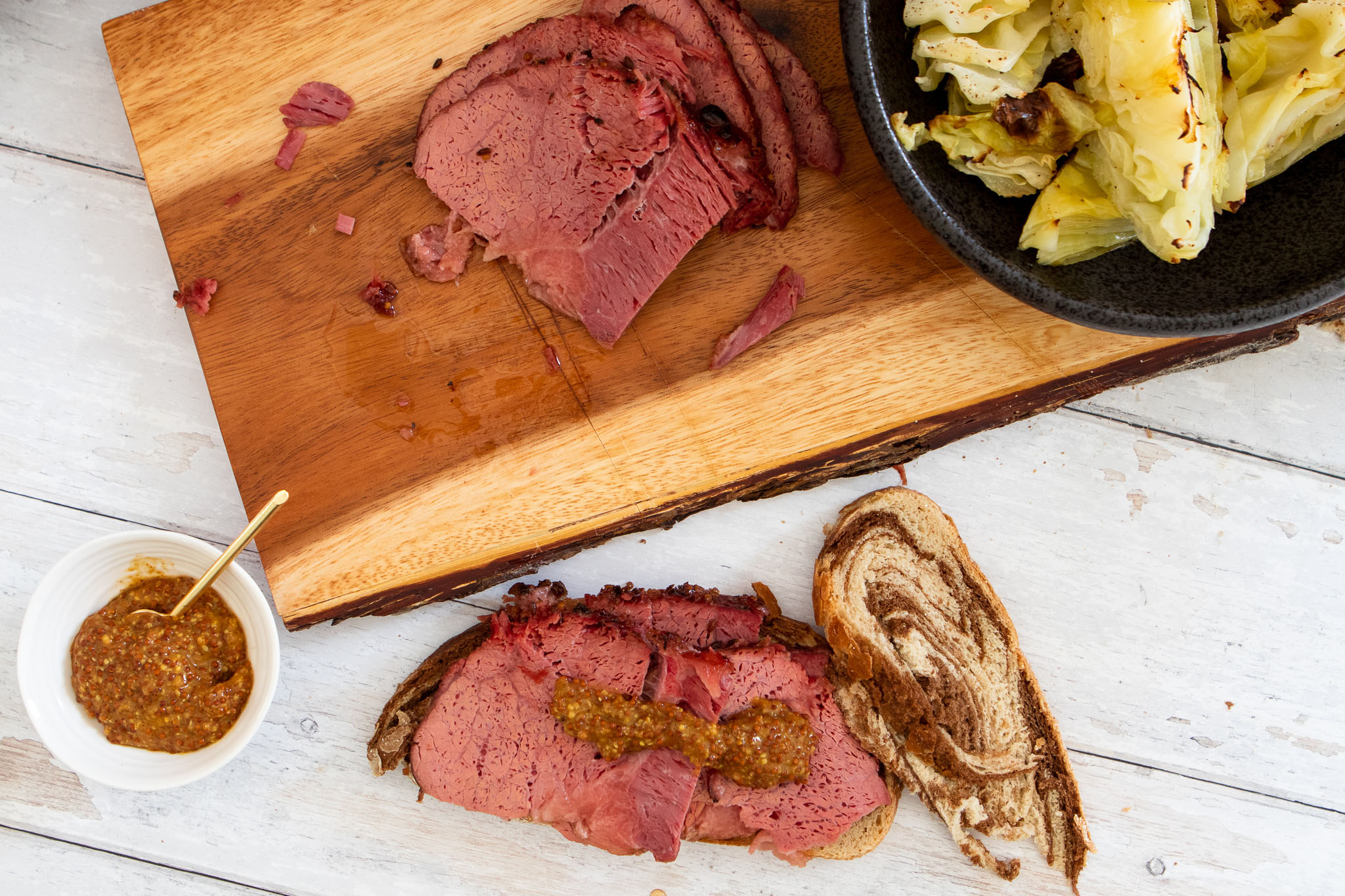 Lastly, if you make Corned Beef with Maple Glaze, be sure to leave a comment and/or give this recipe a rating! Above all, I love to hear from you and always do my best to respond to each and every comment. And of course, if you do make this recipe, don't forget to tag me on 
Instagram
! Looking through the photos of recipes you all have made is one of my favorite things to do!
Corned Beef with Maple Glaze
Makes: 6 servings
Prep Time: 25 minutes
Bake Time: 2 hours & 30 minutes
Total Time: 2 hours & 55 minutes
Ingredients
1 corned beef brisket with spice packet (around 3-4 pounds) 
1/2 large sweet onion, sliced 
6 garlic cloves, peeled and cut in half 
2 tbsp Kosher salt 
2 tbsp whole peppercorns 
4 bay leaves 1 tbsp dried basil 
1 tbsp dried oregano 
2 quarts water 
1 & 1/2 cups beef broth 
2 tbsp maple syrup 
2 & 1/2 tbsp packed brown sugar 
Instructions
Place brisket and spice packet in stock pot or dutch oven. Add onion, garlic, salt, peppercorns, bay leaves, basil, oregano, water and beef broth. Bring to a boil; reduce heat to a simmer and cover pot. Simmer for 2  & 1/2-3 hours or until tender (you should be able to pierce brisket with a sharp knife or skewer easily). 
Remove meat from pot and place on a small roasting pan. Turn oven to broil. 
Brush maple syrup over corned beef and sprinkle brown sugar on top. Place roasting pan about 6 inches from broiler and broil for 2-3 minutes until glaze starts to caramelize, watching carefully. 
Slice across the grain thinly and serve with Grilled Cabbage.
Corned Beef with Maple Glaze