Creamy Rice Pudding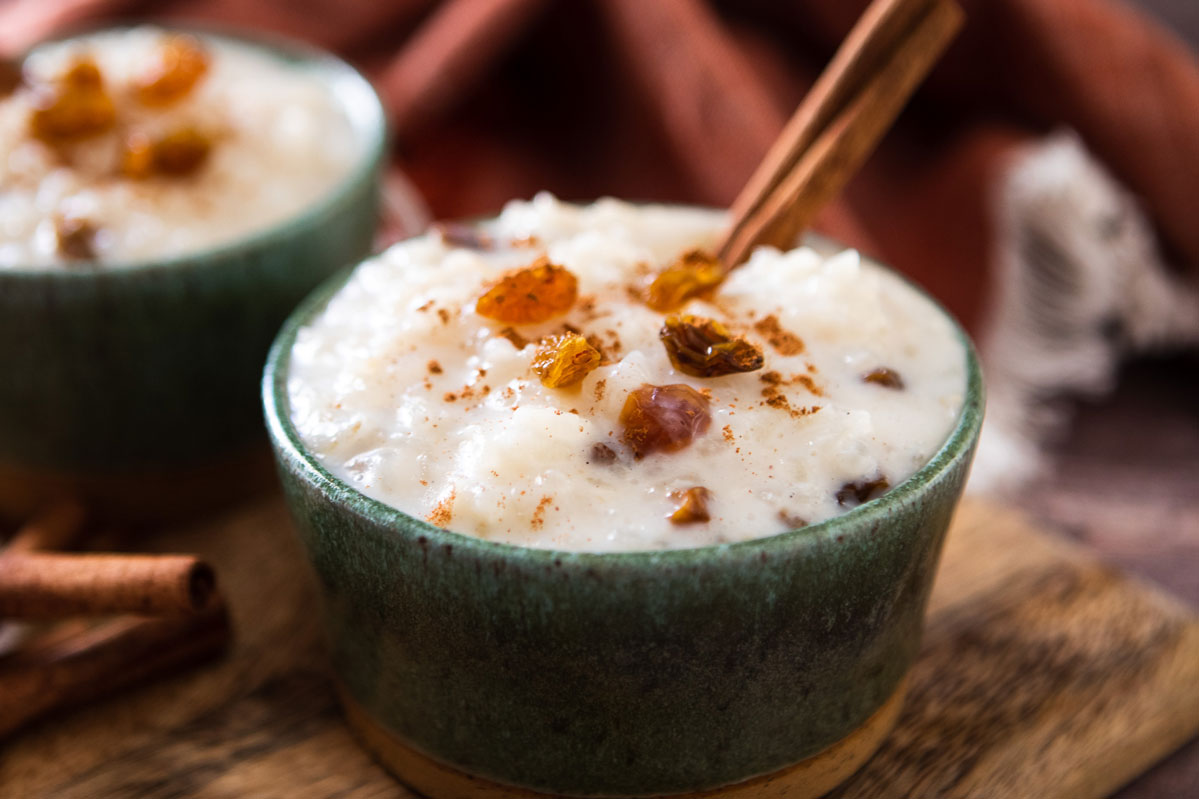 Creamy Rice Pudding is a sweet, thick mixture of rice cooked in milk, flavored with warm winter spices and studded with golden raisins.
It's a simple dish that is always considered a comfort food in my home!
It's also an Easy Peasy recipe which means it has few ingredients, is easy to make and/or is quick to prepare.  This dish needs a bit of time for the rice to get nice and creamy but it's a breeze to make and has only a few ingredients.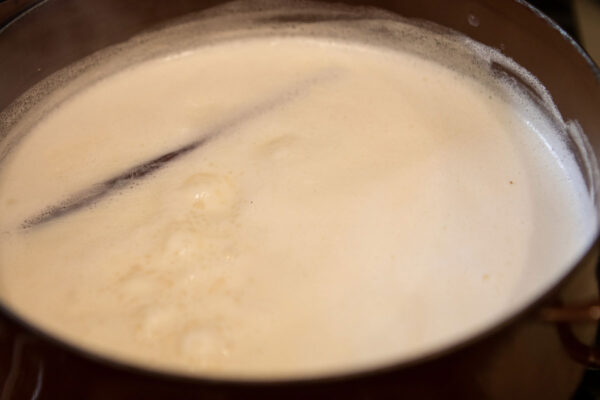 In a heavy saucepan, heat milk, water, sugar, a cinnamon stick and Arborio rice.  I prefer to use Arborio in lieu of converted long grain rice as the plump grains of rice cook up beautifully in the milk.  Basmati and jasmine rice are also good choices but I would stay away from short-grain or quick-cooking rice as these will tend to produce a mushy pudding.
Whole milk is essential to creating the creaminess.  If you don't have any, 2% will work but it won't be as creamy.
Bring the mixture to a rapid simmer and then reduce the heat, maintaining an even simmer, and cook for 35 to 40 minutes.
The texture should be like a thin oatmeal.  The pudding will thicken up as it cools.
Remove the pudding from the heat and remove the cinnamon stick.  Add the vanilla extract and golden raisins.  You can always eliminate the raisins if they aren't your thing (no judgment, I promise!) but they are a delicious addition.
Transfer the pudding to small ramekins and let the pudding cool prior to serving.
Garnish with a cinnamon stick and a sprinkling of ground cinnamon and extra raisins.
You can eat the pudding chilled or warm, whatever pleases you.  Enjoy!
Lastly, if you make Creamy Rice Pudding, be sure to leave a review down below at the bottom of this page (stars are also appreciated)! Above all, I love to hear from you and always do my best to respond to each and every review. And of course, if you do make this recipe, don't forget to tag me on 
Instagram
! Looking through the photos of recipes you all have made is one of my favorite things to do!
Makes: 8 servings
Prep Time: 5 minutes
Cook Time: 35 minutes
Total Time: 40 minutes
Ingredients
Rice Pudding:
4 & 1/2 cups whole milk

1 & 1/2 cups water

3/4 cup granulated sugar

1 cinnamon stick

1 cup Arborio rice

1 tsp

vanilla extract

or vanilla bean paste

2/3 cup golden raisins or regular raisins
Garnish:
1 cinnamon stick grated or ground cinnamon
Instructions
In a heavy bottomed 3-quart saucepan or dutch oven, combine the milk, water, sugar, cinnamon stick and rice. Bring the mixture to a rapid simmer (but not yet boiling) over medium high heat, stirring frequently. Reduce the heat to medium to maintain an even simmer and continue cooking, stirring frequently until the rice is tender – about 35 to 45 minutes. Look for a thin oatmeal consistency keeping in mind that the pudding will thicken as it cools.
Remove the cinnamon stick and take off of the heat. Next, stir in the vanilla and golden raisins.
Transfer the rice pudding into small ramekins or jars for individual servings. You can also place it in a large serving dish.
Allow the pudding to cool slightly before serving. If making in advance, let the rice pudding cool to room temperature and then cover with plastic wrap pressed up to the surface of the rice pudding and chill. Rice pudding can be made up to two days in advance. When serving, garnish with cinnamon and additional golden raisins. Rice pudding can be enjoyed chilled or warm.
Recipe from Glorious Treats