Crispy Zoodles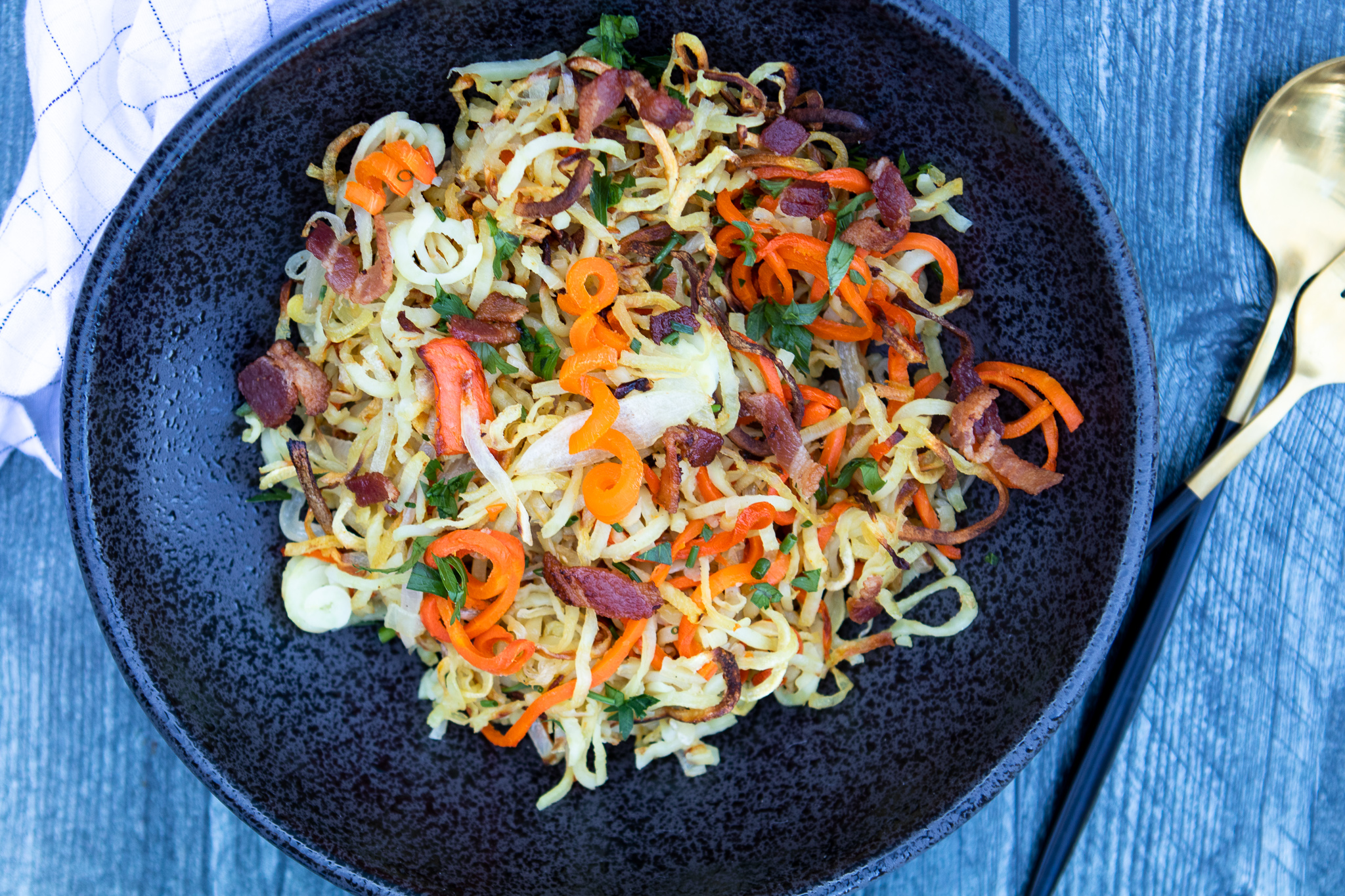 I'm sure many of you have seen the pre-packaged spiralized zucchini and other vegetables at the grocery store. I have used these in recipes before, and finally decided to get my own spiralizer so that my zoodles (spiralized noodles) were fresher and I could have the variety that I wanted.
In this recipe for Crispy Zoodles, I have made sweet potato spirals along with carrots and onions (the onion don't really spiral, but they get nicely cut). Once roasted together, they get tossed with some fresh lime juice. Top the roasted spirals with crispy bacon, fresh parsley and chives and get ready to say "Yummmmm"!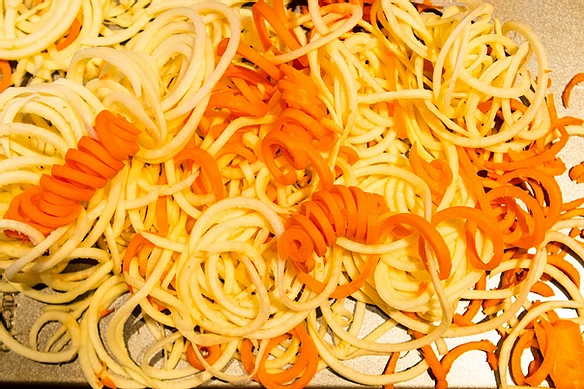 Just a note about quantities…the spirals shrink down considerable when roasting, so be sure to use the entire quantity of vegetables, even though it seems like a lot.
If you want to make this vegetarian, or have an aversion to bacon, I have given instructions in the Chef's Notes for making the crispy zoodles without bacon.
Also, I highly recommend purchasing a spiralizer, if you don't already have one. I like this one, but there are many choices.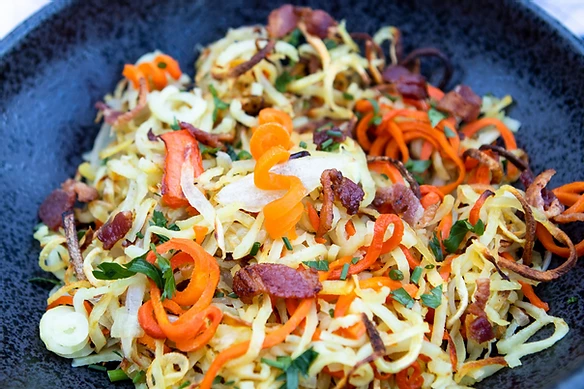 Lastly, if you make Crispy Zoodles, be sure to leave a review down below at the bottom of this page (stars are also appreciated)! Above all, I love to hear from you and always do my best to respond to each and every review. And of course, if you do make this recipe, don't forget to tag me on 
Instagram
! Looking through the photos of recipes you all have made is one of my favorite things to do!
Makes: 4 servings
Prep Time: 15 minutes
Cook Time: 45 minutes
Total Time: 1 hour
Ingredients
1/2 pound bacon, cut crosswise into ¼-inch pieces (See Chef's Note)

2 pounds white-fleshed sweet potatoes, peeled

2 large carrots, peeled (the fatter, the better for spiralizing)

1 small yellow onion, peeled

Kosher salt

1 medium lime

Freshly ground black pepper

2 tbsp chopped Italian parsley

2 tbsp minced chives
Instructions
Preheat oven to 400°F on convection mode (or 425°F on regular mode), with the rack in the middle position.
While the oven is heating up, toss the bacon bits into a large skillet and heat to medium. Cook, stirring occasionally until all the fat is rendered and the bacon is crispy, about 15 minutes.
While the bacon is turning into crunchy porky bits, spiralize the sweet potatoes, carrots, and onion. To ensure success, make sure you've got thick 'n girthy veggies (at least 1 & 1/2 inches in diameter) and make sure the ends are sliced smoothly and evenly.
Place the veggie noodles on a rimmed baking sheet. If the strands are too long, use a pair of kitchen shears to cut the zoodles into more manageable lengths.
When the bacon bits are crunchy, use a slotted spoon to transfer them onto a paper towel-lined plate.
Toss the vegetable noodles with 1& 1/2 teaspoons kosher salt and the reserved bacon drippings. (See Chef's Notes for a vegetarian version.)
Place the tray of veggies into the oven and roast for a total of 35 to 45 minutes, stirring the veggies every 10-15 minutes to make sure they cook evenly.
The zoodles are done when the veggies are tender and have crispy bits all over. Watch your veggies like a hawk in the last 10 minutes to ensure that the onions and sweet potatoes don't burn!
Squirt on the juice from one lime and season to taste with salt and pepper. Top the roasted zoodles with a shower of chopped parsley, chives, and crispy bacon bits. Serve immediately with your favorite roasted meats or seafood.
Chef's Notes:
If you want to make this dish vegetarian-friendly, eliminate the crispy bacon and substitute 1/3 cup olive oil or avocado oil in place of the bacon grease needed before roasting the zoodles .
If you've got any leftovers, you can store them in the fridge for up to a week or in the freezer for a few months.
Download PDF