Asparagus Carbonara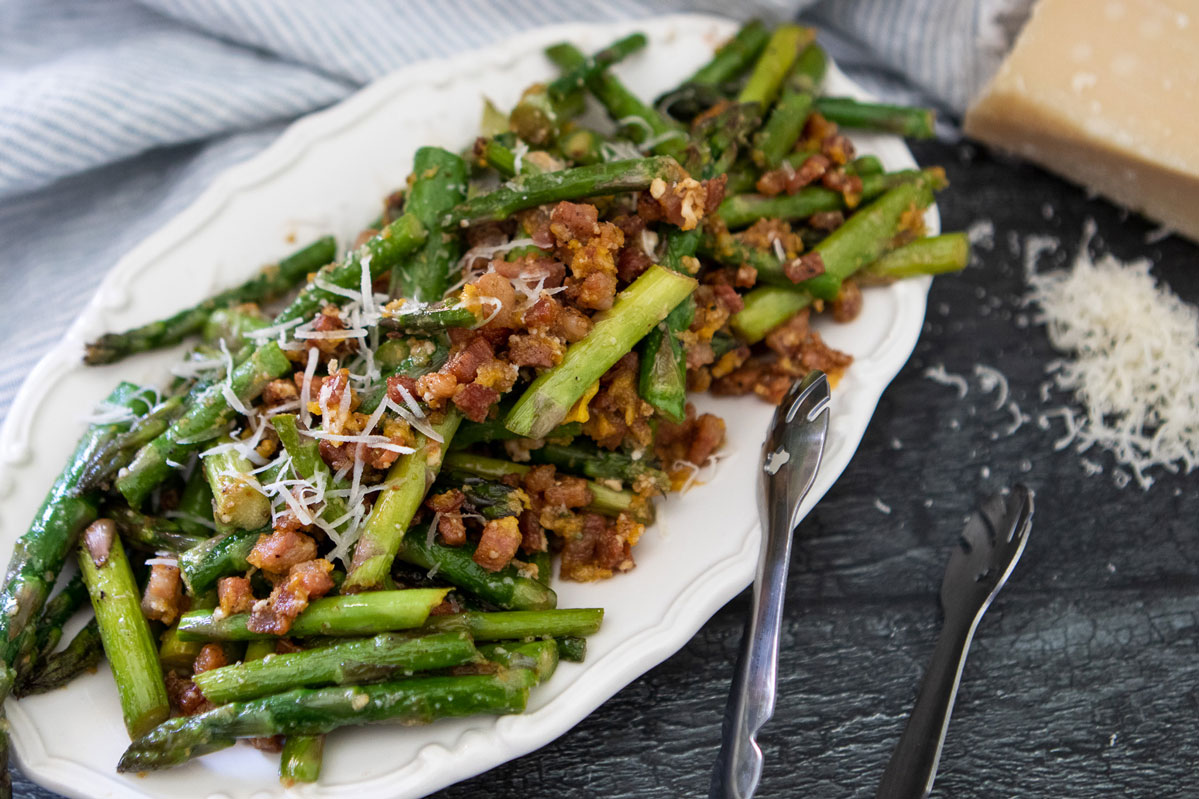 Asparagus Carbonara is a playful take on a classic pasta dish, Spaghetti Carbonara.  The traditional pancetta, egg yolks, and parmesan cheese are combined and tossed over asparagus to create a healthy and delicious side dish.  It's also quick and easy to create!
Begin by crisping up the pancetta in a skillet. 
Drain most of the fat from the skillet and add the asparagus and a little water and steam the asparagus until tender.  This doesn't take long, maybe 2-4 minutes.  
Now add the butter and egg yolks to the pan and toss the asparagus and pancetta together until the butter is melted.  Add the parmesan and continue  to toss until nicely combined.
Season with some salt and pepper and you now have an easy, healthy side dish to serve with any meal!
Lastly, if you make Asparagus Carbonara, be sure to leave a review down below at the bottom of this page (stars are also appreciated)! Above all, I love to hear from you and always do my best to respond to each and every review. And of course, if you do make this recipe, don't forget to tag me on 
Instagram
! Looking through the photos of recipes you all have made is one of my favorite things to do!
Makes: 4 servings
Prep Time: 5  minutes
Cook Time: 10minutes
Total Time: 15 minutes
Ingredients
4 ounces pancetta, cut into small dice

1 pound thin asparagus, trimmed and cut crosswise into 2-inch pieces

2 large egg yolks, lightly beaten

1/2 tbsp unsalted butter

3 tbsp finely grated Parmigiano-Reggiano

Fine sea salt

1/4 tsp freshly ground black pepper
Instructions
Heat a large skillet over moderately high heat. Add the pancetta and cook, stirring occasionally, until crisp, 3 to 5 minutes. Drain off the excess fat, leaving just enough to coat the skillet.
Add the asparagus and 2 tablespoons of water and cook over moderately high heat until the asparagus is crisp-tender, 2 to 4 minutes. Remove the skillet from the heat and immediately add the egg yolks and butter to the skillet. Cook, tossing, until the butter is melted. Toss in the Parmigiano-Reggiano and season with salt and the pepper.
Transfer to a bowl and serve right away.
Recipe by Food & Wine