Luscious Lokshen Kugel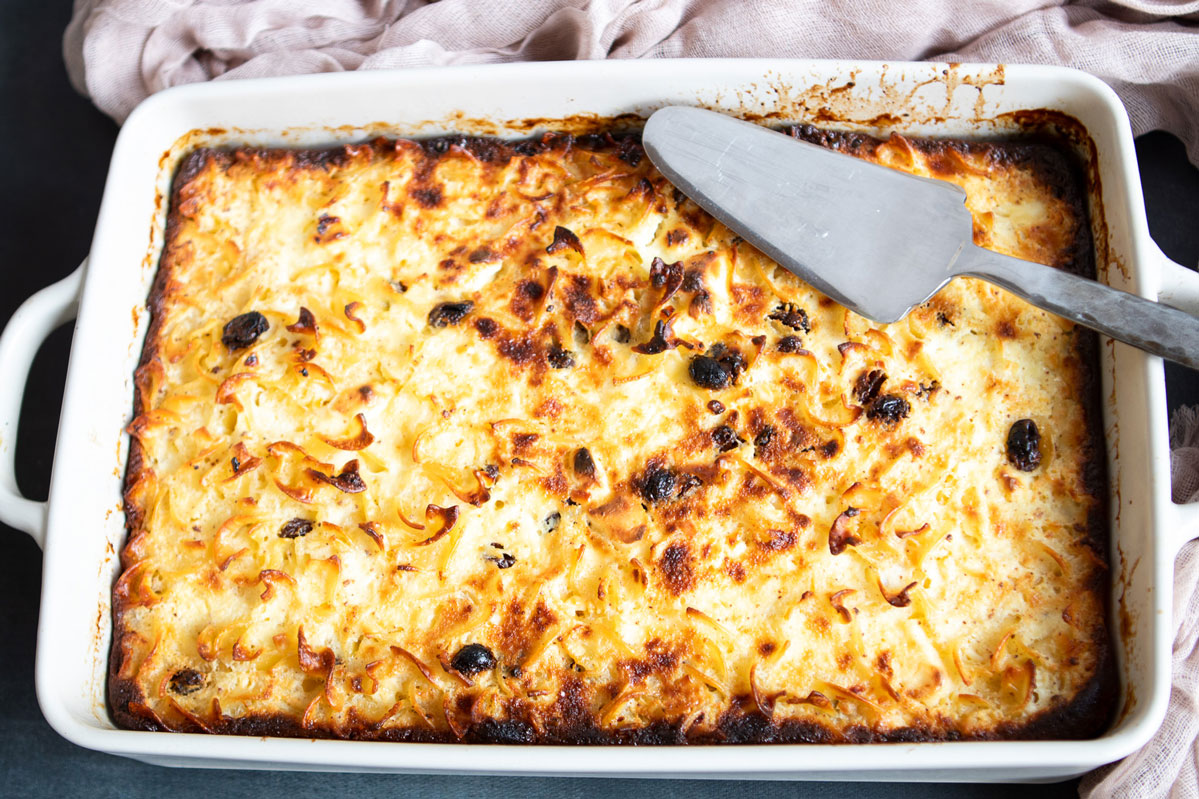 To break a 24-hour long fast that is traditional for Jews at Yom Kippur, a noodle kugel (pudding) such as Luscious Lokshen Kugel is just the thing!  You'll want to make it just for the name!
Years ago (1996 to be exact) I helped create a fundraising cookbook (Tasteful Treasures) for the Kivel Campus of Care, a Jewish senior facility.  We solicited all of the women in the Auxiliary to submit recipes for the book so it was truly a love project!  After it's publication, I was chatting with my baby brother and asked what he was making for break fast and he said Luscious Lokshen Kugel!  I cracked up at the name and the way he said it but when I was thinking about a new kugel recipe for this break fast, Luscious Lokshen Kugel came to mind.  I don't remember who submitted the recipe, but hats off to her for a delicious kugel! 
What exactly is Lokshen Kugel?  I had to look it up but "lokshen" means egg noodles.  As for "kugel", it is a Yiddish word  meaning a baked casserole, most commonly made from lokshen or potato. It is a traditional Ashkenazi Jewish dish, often served on Shabbat and Jewish holidays.  It can be either sweet or savory.  For break fast, I prefer a sweet kugel (a nod to the sweetness of the New Year).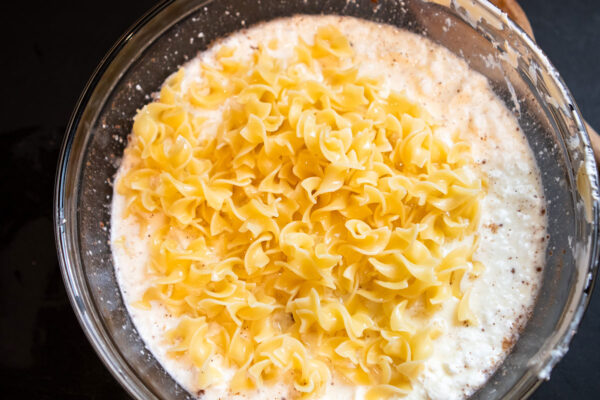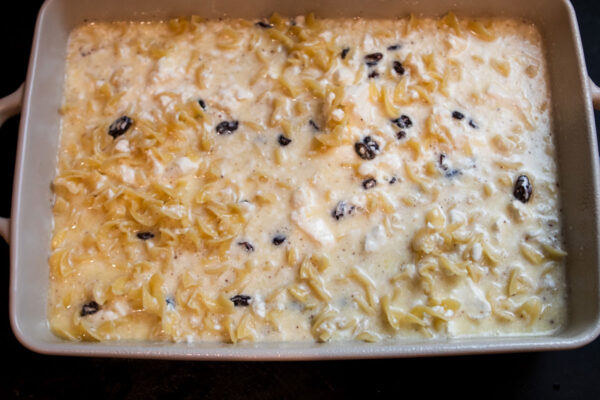 Begin this casserole by cooking and draining wide egg noodles.  Set them aside while you combine the remaining ingredients.
First mix the eggs and sugar.  Add the milk, cottage cheese, cream cheese, sour cream, raisins, cinnamon and salt.  
Finally, toss the drained egg noodles with the melted butter and mix with the egg/cheese mixture.
Pour it all into a buttered baking dish and bake until the kugel isn't jiggly and is browned on top, about 1 hour & 15 minutes.
Many of you know that I don't love cooked raisins, which is why I listed it as optional.  There was a bit of an outcry last time I mentioned that in my carrot cake recipe, so I decided to make this recipe WITH the raisins.  And yes, I tried it and it was delicious.  I may revise my opinion on cooked raisins (MAY…still not 100% sure)!
With or without raisins, you will love this version of Luscious Lokshen Kugel!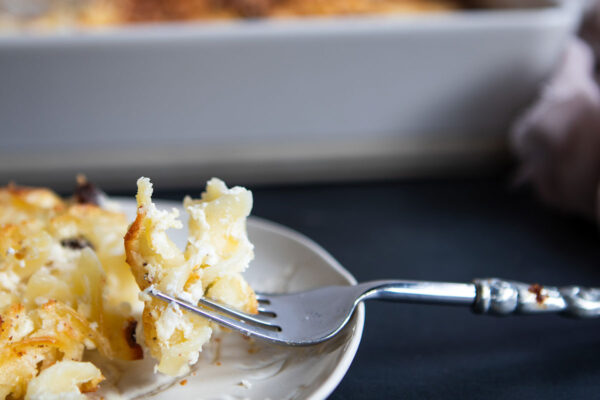 Lastly, if you make Luscious Lokshen Kugel, be sure to leave a review down below at the bottom of this page (stars are also appreciated)! Above all, I love to hear from you and always do my best to respond to each and every review. And of course, if you do make this recipe, don't forget to tag me on 
Instagram
! Looking through the photos of recipes you all have made is one of my favorite things to do!
Makes: 12 servings
Prep Time: 10 minutes
Cook Time: 1 hour & 25 minutes
Total Time: 1 hour & 35 minutes
Ingredients
8 ounces wide egg noodles, cooked & drained

3 eggs

3/4 cup white or brown sugar

1 & 1/2 cups milk

8 ounces cottage cheese

4 ounces cream cheese, diced

1 cup sour cream

1/2 cup raisins, optional

Dash of cinnamon

Dash of kosher salt

4 tbsp unsalted butter, melted
Instructions
Preheat oven to 350°F. Butter a 9 x 13-inch baking dish.
In a large bowl, combine eggs and sugar. Add remaining ingredients except noodles and butter.
Add melted butter to noodles and combine with egg mixture. Pour into baking dish. Bake in preheated oven for 1 hour & 15 minutes.
Serve immediately.