Mashed Peas with Mint Bruschetta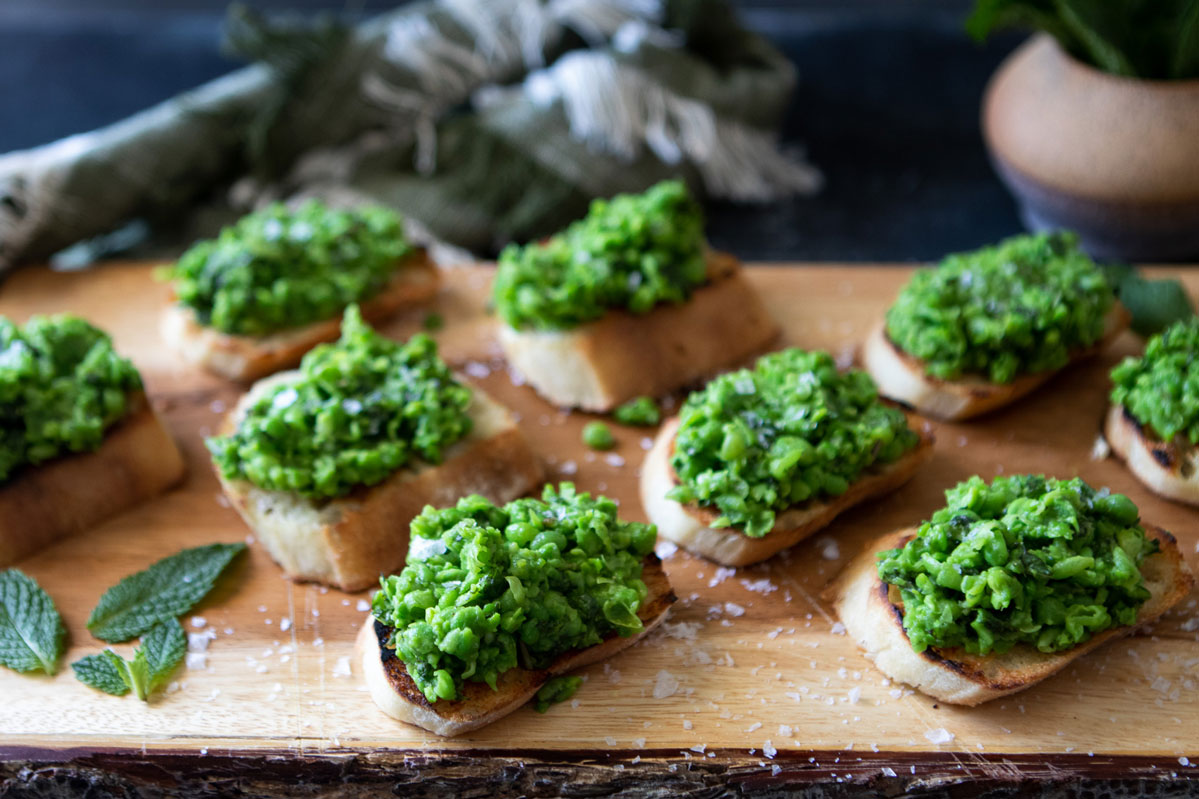 For the freshest in spring time appetizers, try Mashed Peas with Mint Bruschetta.  That vibrant green of the mashed peas along with mint, garlic, olive oil and lemon juice is enough to stop you in your tracks.  Scoop it onto some grilled bread and you've got heaven on a slice!
This is one of those recipes that's so easy to make and so very quick (12 minutes start to finish)!  Of course, it's part of my Easy Peasy collection so there are no excuses for not making this.
Blanch the frozen peas in a pot of boiling water for a minute and then strain them.  Blanching is just another word for cooking very quickly in hot water.  
In a food processor, combine the peas, mint, garlic, olive oil and lemon juice and pulse until you get a chunky but cohesive mixture.
In a hot skillet, add bread slices that have been brushed with olive oil and toast until they are golden on each side.  This takes about 2-3 minutes per side.  Keep an eye on them so that they don't burn.
Rub a garlic half on each slice of toasted bread, and then pile each slice high with the pea mixture.
Enjoy!
Lastly, if you make Mashed Peas with Mint Bruschetta, be sure to leave a review down below at the bottom of this page (stars are also appreciated)! Above all, I love to hear from you and always do my best to respond to each and every review. And of course, if you do make this recipe, don't forget to tag me on 
Instagram
! Looking through the photos of recipes you all have made is one of my favorite things to do!
Mashed Peas with Mint Bruschetta
Makes: 6-8 servings
Prep Time: 7 minutes
Cook Time: 5 minutes
Total Time: 12 minutes
Ingredients
1 & 1/2 cups frozen peas

A handful of mint leaves (about 1/2 cup)

1 clove of garlic, minced (plus 1/2 clove of garlic for rubbing on bread)

4 tbsp olive oil

1 tsp lemon juice

Salt, to taste

Pepper, to taste

6-8 slices of bread (baguette or ciabatta are best)
Instructions
Bring a small pot of water to a boil and add the peas. Blanch them for 60 seconds in the water. Strain.
In a food processor or using a stick blender, add the peas, mint, garlic, 2 tablespoons of the olive oil, lemon juice, salt, and pepper. Pulse until you get a consistency that sticks together but is still chunky.
Brush the sliced bread with the remaining olive oil on both sides and add to a hot skillet or oven grill. Grill on each side for around 2-3 minutes if using a hot skillet or 5-7 in the oven.
Rub the garlic on the bread before topping generously with the pea mix.
Recipe by Heartful Table
Mashed Peas with Mint Bruschetta