Mushroom Gravy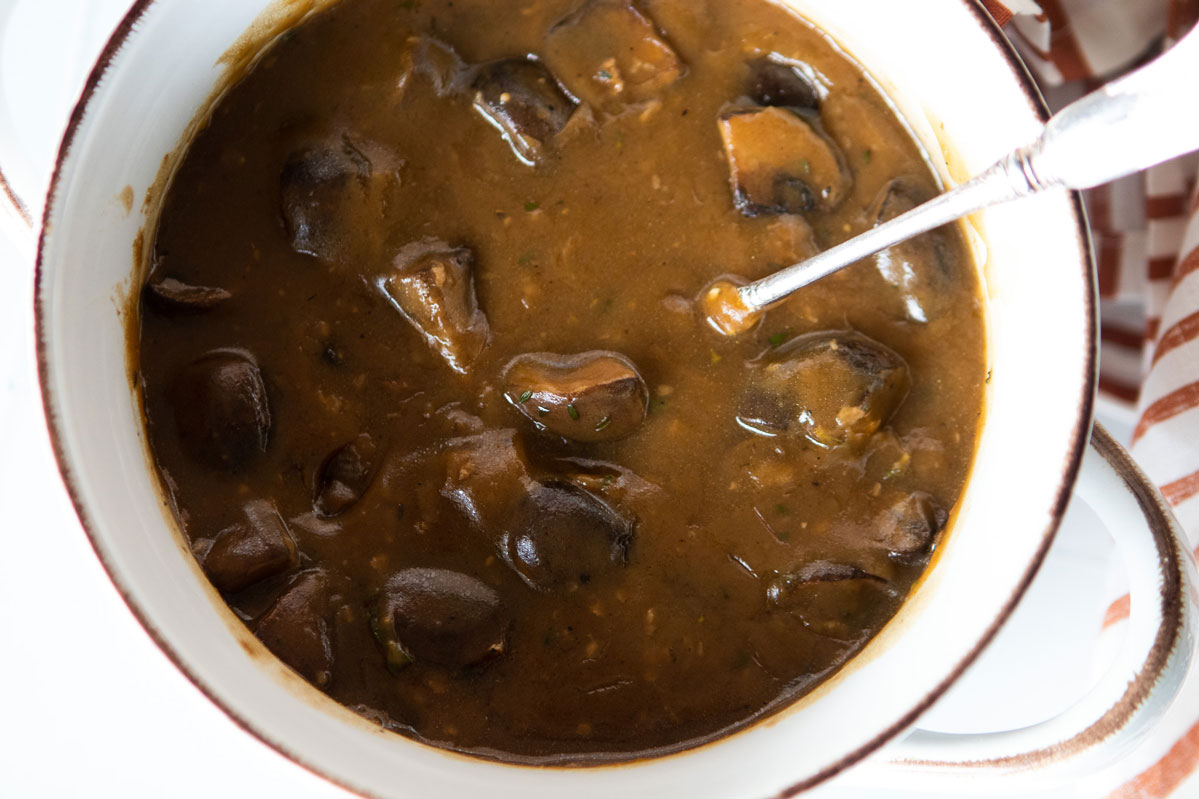 This easy Mushroom Gravy is the right thing to have any time you want a vegetarian gravy.  You can make it with chicken or beef stock, but making it with vegetable stock gives you another option.
Sautéed cremini mushrooms combined with garlic, stock, soy sauce and thyme elevate this simple gravy.
Give it a try for your next Thanksgiving dinner!
Lastly, if you make Mushroom Gravy, be sure to leave a comment and/or give this recipe a rating! Above all, I love to hear from you and always do my best to respond to each and every comment. And of course, if you do make this recipe, don't forget to tag me on 
Instagram
! Looking through the photos of recipes you all have made is one of my favorite things to do!
Makes: 8 servings
Prep Time: 5 minutes
Cook Time: 35 minutes
Total Time: 40 minutes
Ingredients
16 ounces cremini mushrooms, quartered

1 & 1/2 tsp kosher salt

2 tbsp extra-virgin olive oil

3 tbsp unsalted butter

2 tsp minced garlic

1/3 cup all-purpose flour

4 cups beef, chicken or vegetable stock

2 tsp minced thyme leaves

2 tbsp low-sodium soy sauce or tamari

1/2 tsp freshly cracked black pepper

1 tbsp lemon juice
Instructions
In a large skillet over medium heat add the mushrooms in a single layer taking care not to crowd the pan (this may need to be done in a few batches depending on the size of the pan.) Sprinkle the mushrooms with 1 teaspoon of the salt. Cook without disturbing until the mushrooms begin to release moisture, about 3-4 minutes. Cook, stirring, until the mushrooms begin to brown and moisture has evaporated, 8-10 minutes.
Add the olive oil to the pan and cook, stirring often, until the mushrooms have absorbed the oil and are golden brown, about 3-4 more minutes. Transfer the mushrooms to a plate.
In the same skillet over medium heat melt the butter. Add the garlic and cook, stirring, until fragrant, about 1-2 minutes. Sprinkle in the flour and cook, stirring, until the butter has absorbed the flour, about 1-2 minutes. 
Very slowly pour in the stock, whisking continuously, until the sauce has thickened, about 2-3 minutes. Add the thyme, soy sauce, remaining 1/2 teaspoon salt, pepper and mushrooms along with any collected juices. Stir to combine and cook until the sauce has thickened, about 5-7 minutes. Add in the lemon juice and stir to combine.
Serve warm over mashed potatoes, steak, turkey or alongside any roast beef or pork.
Chef's Note:
Can be made one day ahead. Cool and store in an airtight container in the refrigerator. To reheat, add to a saucepan over medium heat, stirring until warmed through.