Brownie and Berry Cups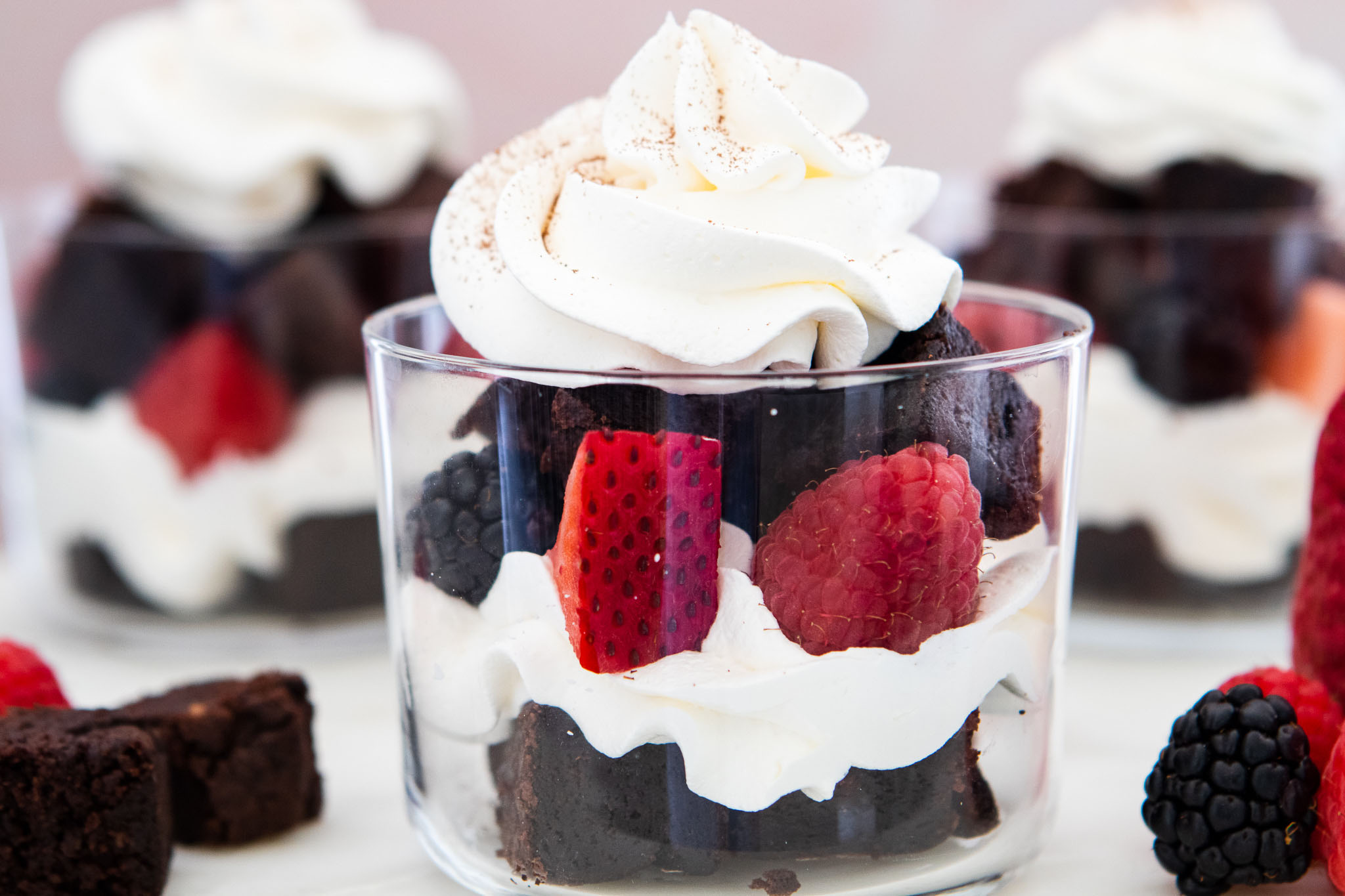 When you are looking for a quick, easy & beautiful dessert, look no further than Brownie and Berry Cups.  It's such a simple dessert, but it's so pretty and classy-looking.
I made these brownie and berry cups with a Passover seder in mind.  I used my Delicious Fudge Brownie recipe to make the small croutons, which is unbelievably Kosher for Passover!  I say unbelievable because most Passover desserts are meh…heavy, dense, uninteresting.  I know…I've been eating them my whole life.  But, years ago, I decided that Passover desserts were my challenge:  how to make something that can't have flour or leavening in it turn out delicious.  We all know about flourless chocolate cake, and how dense and yummy it is.  Well, think of these brownies in the same way.  Dense, chocolatey, rich, and moist as can be!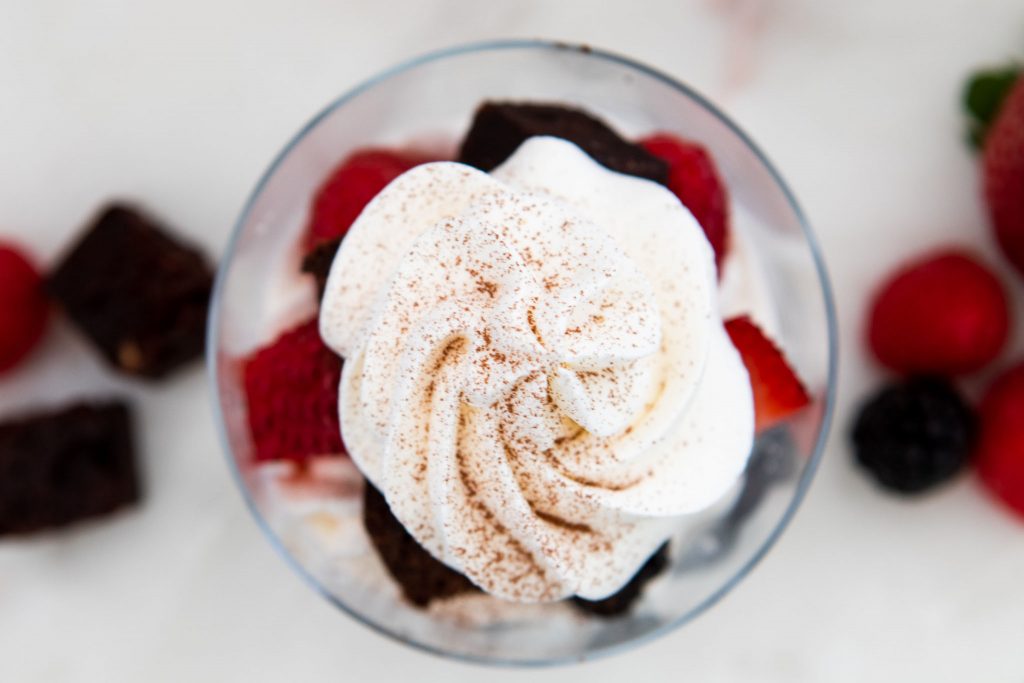 Begin with the brownies of your choice. Again, you can use the Delicious Fudge Brownies if you want to keep it Kosher for Passover, or try OMG Brownies or Gooey Caramel Brownies for something different. Even if you're not observing Passover, the delicious fudge brownies are a wonderful choice! Cut the brownies into little cubes or croutons.
Whip up the cream with some sugar, sour cream & vanilla. If you're observing Passover, leave out the vanilla extract unless it's Kosher for Passover. Regular vanilla extract is made with grain alcohol, so it doesn't fall under the guidelines of Kosher for Passover. You can get imitation KfP vanilla extract here, so if you're doing a lot of baking for the holiday, you might want to pick some up.
If you are up to the task, you can put the whipped cream into a piping bag with a star tip in it. It's not necessary, but you will be able to get a pretty swirl out of it. You can also put the whipped cream into a sturdy baggie and cut about a half-inch end off of one corner of it and then use that to pipe the whipped cream into the cups. The final method is to simply spoon the whipped cream into the cups.
Finally, slice up some berries or leave them whole, and layer the brownies, whipped cream and berries. I like to do it twice so that it looks very pretty! I sprinkled some cocoa powder over the top, but shaved chocolate or mini chocolate chips looks amazing as well!
These can be made ahead. store in the fridge until you are ready to eat them! Gobble them, I should say!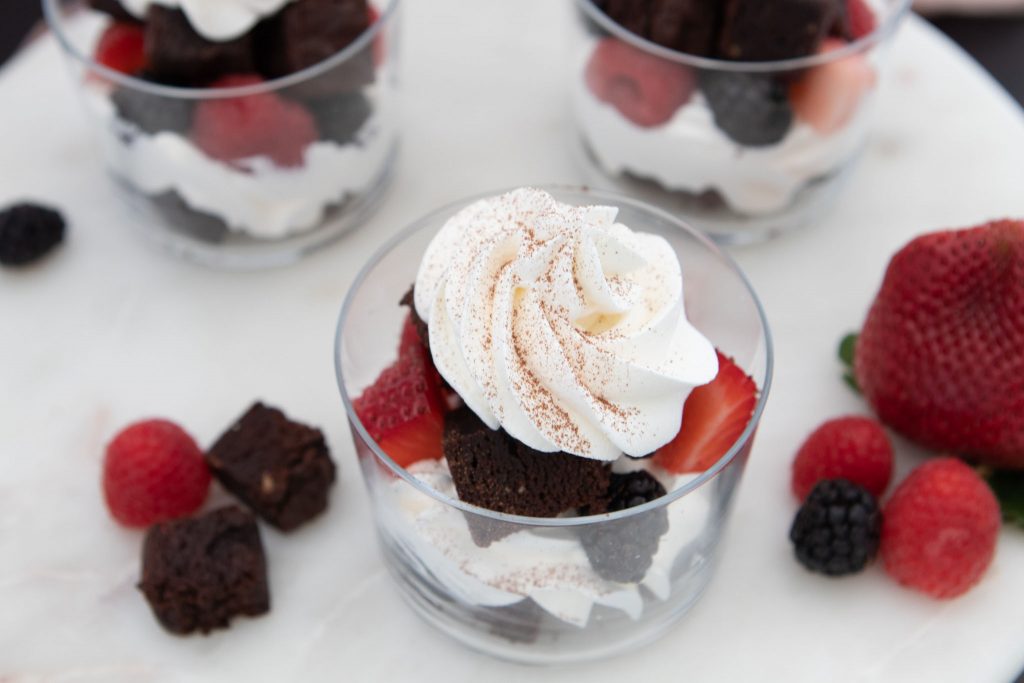 Lastly, if you make Brownie and Berry Cups, be sure to leave a comment and/or give this recipe a rating! Above all, I love to hear from you and always do my best to respond to each and every comment. And of course, if you do make this recipe, don't forget to tag me on 
Instagram
! Looking through the photos of recipes you all have made is one of my favorite things to do!
Makes: 8 individual servings
Prep Time: 10 minutes
Bake Time: 20 minutes
Total Time: 30 minutes plus cooling time  30 minutes
Ingredients
Whipped Cream: 
1 & 1/2 cups chilled heavy cream
1/3 cup sour cream
3 tbsp sugar
2 tsp vanilla extract
2 cups assorted berries
Mini chocolate chips or cocoa powder, for garnish
Instructions
Make the Brownies per recipe. Cool and cut into 1/2-inch cubes.
Make the Whipped Cream:
In the bowl of a stand mixer fitted with the whisk attachment, whisk the heavy cream, sour cream, sugar and vanilla extract on high speed until soft peaks form.
Assemble the Cups:
Fill each serving dish with alternating layers of brownie croutons, whipped cream and berries. Garnish each trifle with a sprinkle of mini chocolate chips or cocoa powder and serve immediately.
Chef's Notes:
To make this Kosher for Passover, use the recipe for Delicious Fudge Brownies. They are phenomenal and give you a fudgy dense cube which is perfect for this recipe. Even if you don't observe Passover, you will love this recipe!
If this is a non-dairy meal, substitute the whipped cream for non-dairy whipped topping.