Man Candy (aka Bacon Candy)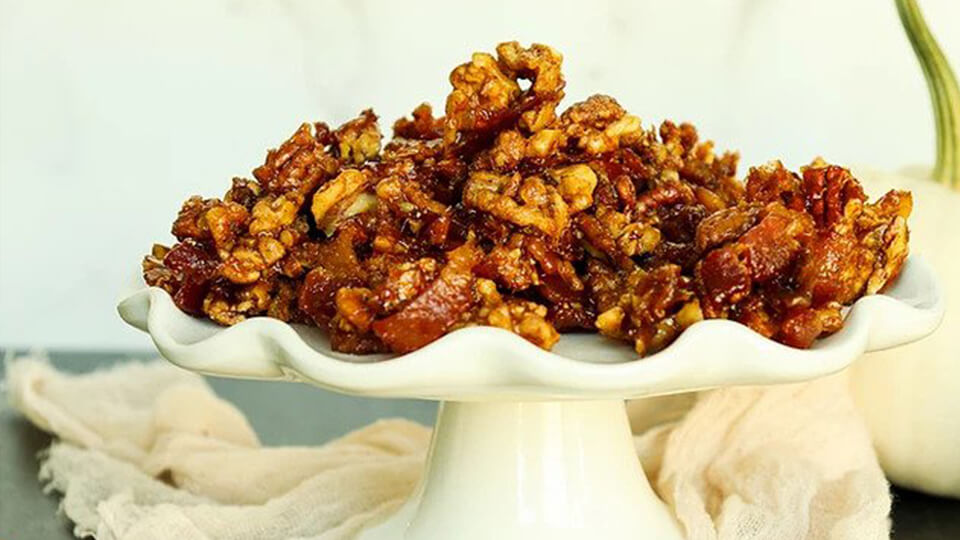 I love bacon!  While my heritage would suggest that maybe I shouldn't, I simply do.  When I first saw this recipe by Recipetineats, I wondered what could make this "man" candy.  Why not "woman" candy?  Or "bacon candy"?  The premise is that men love bacon, but I take umbrage at that.  Why would something so delish be relegated to one sex or the other?  As a matter of fact, when my guy and I go out to eat, I am usually the one ordering "man" food (steak, typically) while he orders the fish!   So, as I'm writing this, I have just added the AKA BACON CANDY moniker to the title.  It's so unfair!
​But, back to the recipe…this one has gotten rave reviews at the cocktail bar at our latest gathering.  Just set it in a bowl, and let people nibble on it.  Before you know it, it'll be gone!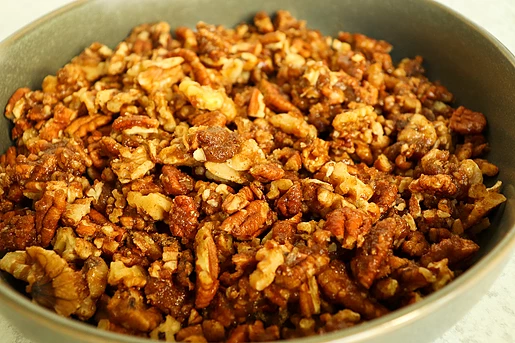 This recipe begins with combining the candied bacon and candied nuts ingredients in separate bowls, baking the candied bacon ingredients, combining them with the candied nuts ingredients, and baking again.  There you go!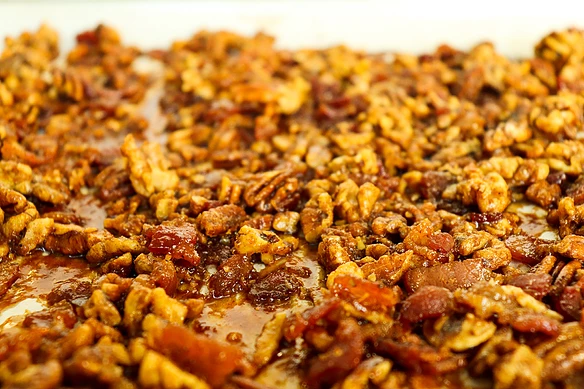 The flavors are decidedly Autumn/Winter/Holiday…brown sugar, maple syrup, pumpkin pie spice…but I would suggest that you make it all year round!
Lastly, if you make Man Candy (aka Bacon Candy), be sure to leave a comment and/or give this recipe a rating! Above all, I love to hear from you and always do my best to respond to each and every comment. And of course, if you do make this recipe, don't forget to tag me on 
Instagram
! Looking through the photos of recipes you all have made is one of my favorite things to do!
Man Candy (aka Bacon Candy)
Makes: 6-8 servings
Prep Time: 10 minutes
Bake Time: 40 minutes
Total Time: 50 minutes
Ingredients
Candied Bacon: 
6 slices centre cut bacon (about 200g / 6 oz) cut into 1/2" pieces

1/4 cup brown sugar (light or normal)

1/2 tsp paprika 

1/8 tsp cayenne pepper

1 lemon, zest only

Pinch of salt

Black pepper (3 grinds)
Candied Nuts:
1 cup pecans, roughly chopped

1 cup walnuts, roughly chopped

1/4 cup brown sugar (light or normal)

2 tbsp maple syrup

1 tsp pumpkin pie spice 

1/2 tsp paprika

1/8 tsp cayenne pepper 

1/8 tsp pepper

Black pepper (3 grinds)

Preheat oven to 350°F.  Line a baking tray with baking paper (parchment paper).
Combine bacon with remaining Candied Bacon ingredients in a bowl and use your fingers to coat the bacon.
Instructions
Combine the Candied Nuts ingredients in a bowl and toss to combine.
Spread the Candied Bacon onto a baking tray and bake for 10 minutes, or until the sugar is bubbling and the bacon is starting to turn brown (i.e. almost cooked).  Remove the bacon from the tray using a slotted spatula (so you don't get too much bacon fat) and transfer it into the bowl with the nuts. Mix to combine.
Use a spatula to scrape and pour the excess oil off the parchment paper.  Pour the nuts back onto the baking tray and bake for 15 minutes, stirring once at half time.  Turn the oven off and open the door slightly. Leave for at least 15 minutes, then remove and allow to cool.
Break the candy into chunks. To store, place into an airtight container and keep in the refrigerator. 
Download PDF
Man Candy (aka Bacon Candy)