Potato-Artichoke and Feta Latkes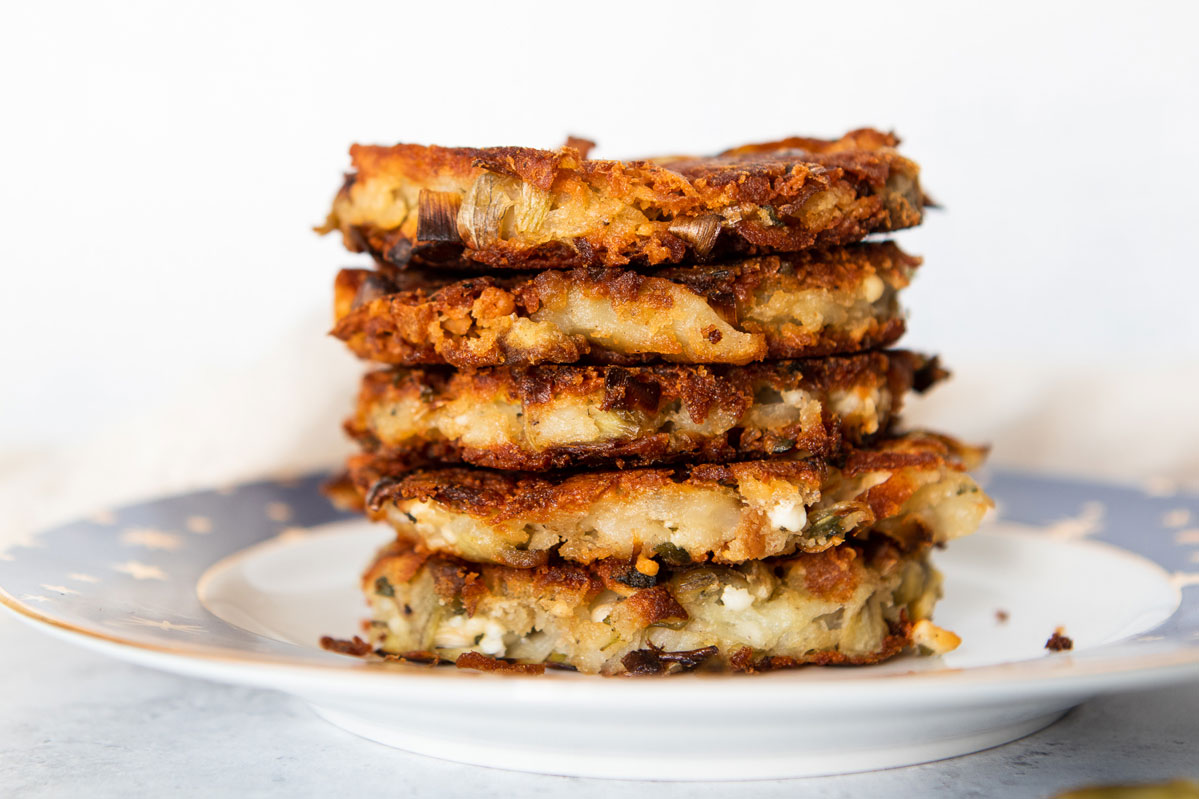 If you're interested in unique recipes, this Potato-Artichoke and Feta Latke recipe will float your boat!  For Chanukah this year, try something a little different than Classic Potato Latkes.  You won't be sorry!
There is a debate amongst latkes lovers worldwide as to whether the potatoes used for the latkes should be grated or mashed, cooked or raw.  I have always been part of the camp that believes they should be grated and cooked raw.  Go Team!!  Until I tried these…and now I'm willing to share the Chanukah glory with the other camp.
Not only is the texture fab, but the flavor is divine.  These latkes are made with red-skinned potatoes (something different from russets, yes?) and are combined with chopped up artichoke hearts, leeks, and Parmesan cheese.  Fresh mint and oregano are included to provide a little spring in the step of the latke (is that such a thing?). Finally, let's throw in some feta cheese to take these up one more notch, if that's even possible!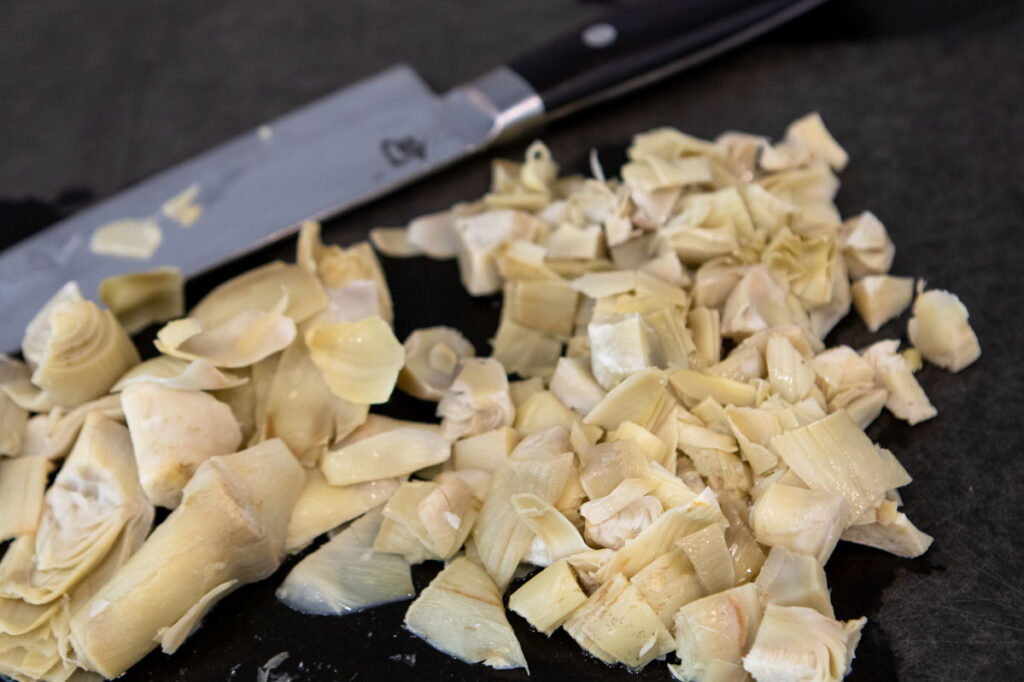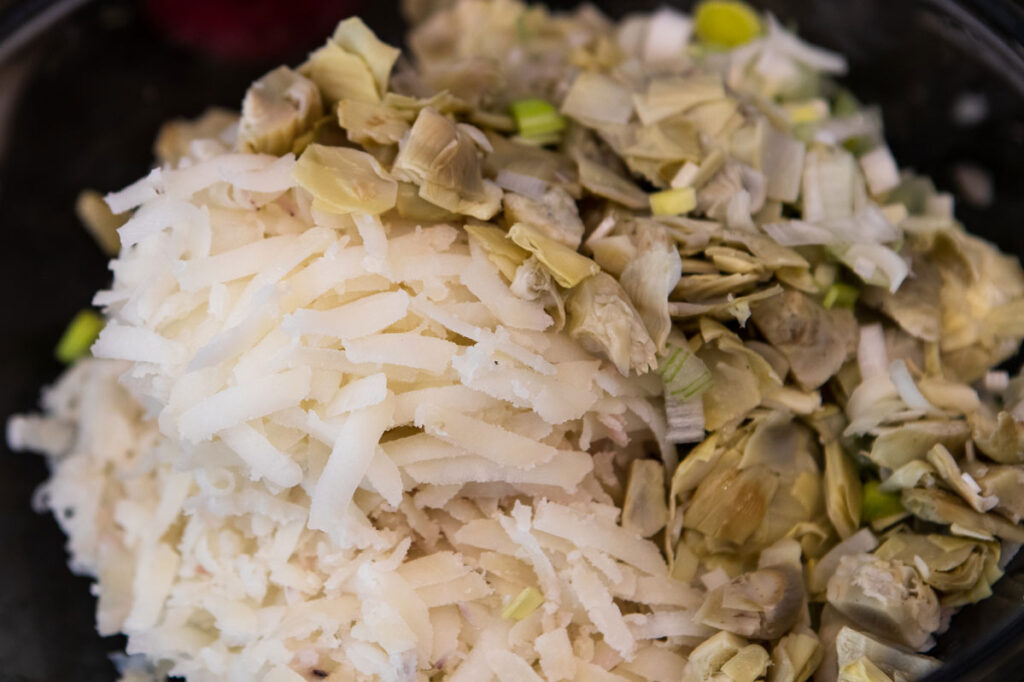 Begin by thawing your frozen artichoke hearts.  You can also use canned artichoke hearts.  Either way, dice and pat them dry.
While you are doing that, go ahead and boil the potatoes until just tender, about 20 minutes.  I like using red-skinned potatoes in this recipe because they grate nicely when barely tender.  Yukon golds also work very well.
Once the potatoes are cool enough to handle, peel them and grate them.  They hold together nicely since they aren't completely cooked.  It's a softer result, as opposed to the raw grate that you get in the Classic Potato Pancakes or Garden Vegetable Latkes. Combine them with the chopped artichoke hearts.
Next, combine the Parmesan cheese, egg, fresh mint, oregano, salt, and pepper in a small bowl.  Add that to the potato mixture.  Stir in the feta cheese and bread crumbs.
The final step is forming the latkes.  I use a 3.5-inch cookie cutter and press about 1/2 cup of batter firmly into the round.  Remove the round cutter and repeat until all the batter is used.
Then, heat the oil in a skillet (indoors or outdoors…see my post for Classic Potato Latkes for tips on this).  Once nice and hot, add the rounds in batches.  Don't overcrowd the skillet.  Cook the latkes until they are brown and cooked through, about 6 minutes per side.  You might have to add a bit more oil if necessary.
Place the cooked latkes on a paper towel-lined sheet pan and keep warm in the oven if not eating immediately.  Most likely they'll be gone before the oven door even opens!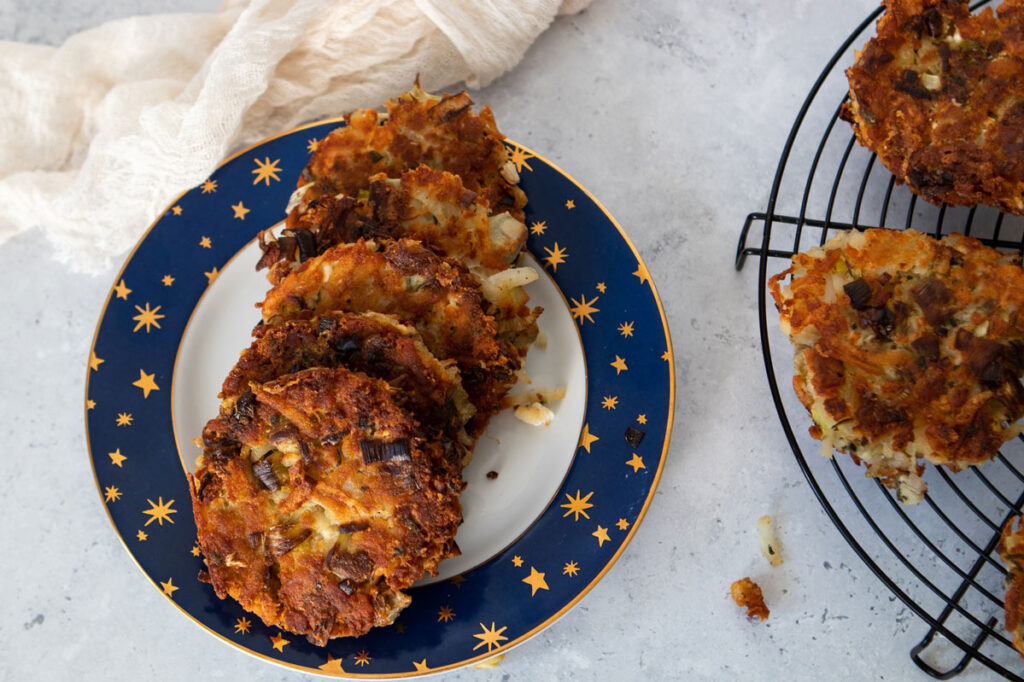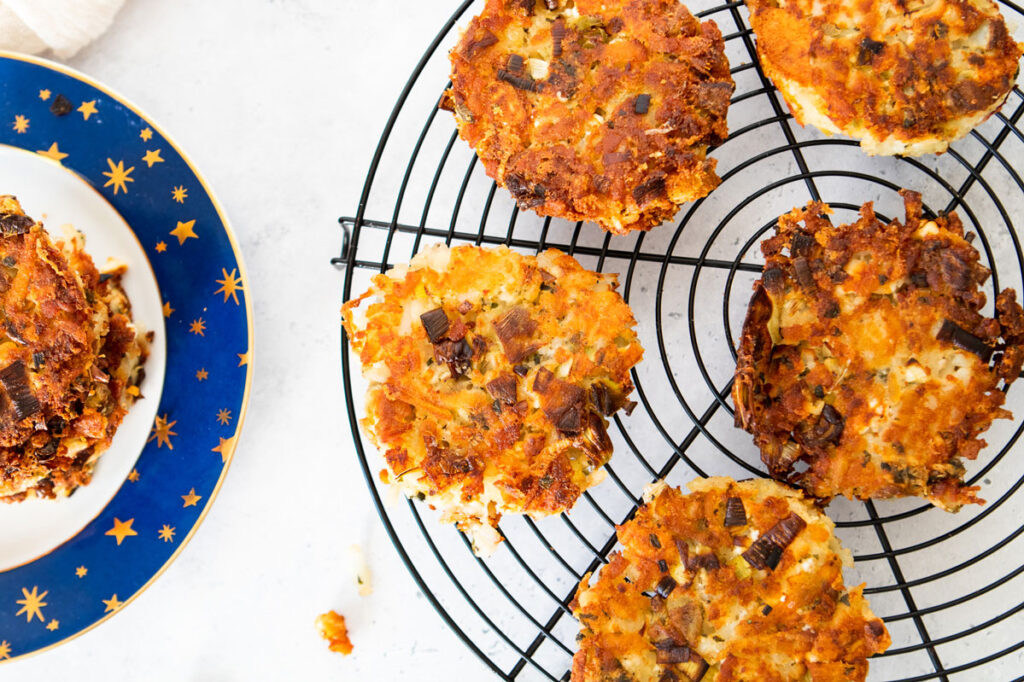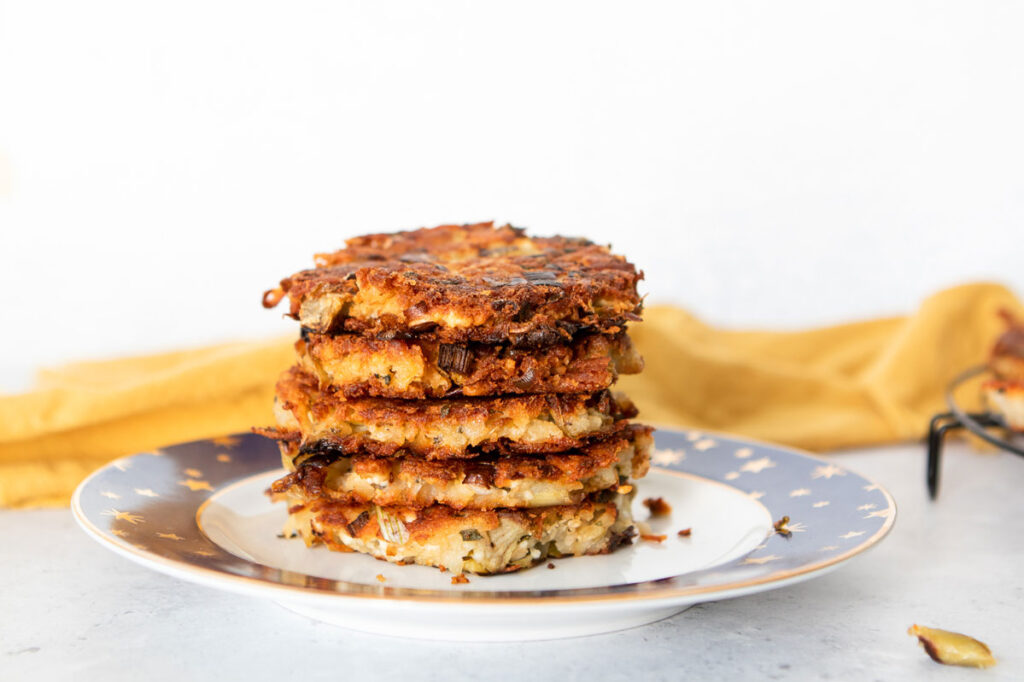 Lastly, if you make Potato-Artichoke and Feta Latkes, be sure to leave a comment and/or give this recipe a rating! Above all, I love to hear from you and always do my best to respond to each and every comment. And of course, if you do make this recipe, don't forget to tag me on 
Instagram
! Looking through the photos of recipes you all have made is one of my favorite things to do!
Potato-Artichoke and Feta Latkes
Makes: 15 latkes
Prep Time: 15 minutes
Cook Time: 1 hour
Total Time: 1 hour & 15 minutes
Ingredients
1 & 1/2 pounds red-skinned potatoes

1 (9-ounce) package frozen artichoke hearts, thawed, diced, patted dry

2/3 cup chopped leek (white and pale green parts only)

1/2 cup freshly grated Parmesan cheese

1 large egg, beaten to blend

2 tbsp chopped fresh mint

2 tbsp chopped fresh oregano

1 tsp Kosher salt

1/2 tsp freshly ground pepper

6 ounces feta cheese, crumbled

1/2 cup fresh French breadcrumbs

8 tbsp (approximately) olive oil
Instructions
Cook potatoes in pot of boiling salted water until just tender, about 20 minutes. Drain. Cool completely and peel.
Preheat oven to 325°F. Place baking sheet in oven (see Chef's Note below). Using hand grater, coarsely grate potatoes into large bowl. Add artichokes and leek.
Mix Parmesan, egg, mint, oregano, salt, and pepper in small bowl. Add to potato mixture. Stir in feta and bread crumbs. On a cookie sheet, firmly press 1/2 cup of the mixture into a 3/5-inch round cookie cutter. Repeat with remaining mixture.
Heat 6 tablespoons oil in large skillet over medium heat. Place 5-6 pancakes into skillet. Cook until brown, about 6 minutes per side. Transfer to sheet in oven. Repeat with remaining pancakes, adding more oil to skillet by tablespoonfuls as necessary. Serve hot.
Chef's Note:
I line the baking sheet that's in the oven with paper towel. I hesitate to mention this as I don't want any fires to start, but I've never had that happen and it help to absorb excess oil.
Potato-Artichoke and Feta Latkes