Funfetti Ice Cream Sandwiches
A holiday weekend would NOT be fun if it didn't include Funfetti Ice Cream Sandwiches!  Yummy no-churn funfetti ice cream is sandwiched between funfetti cookies.  Like I said, things will definitely be FUN this weekend!
If you've never made no-churn ice cream, you're in for a surprise.  It is so simple…a quick whip of the cream and sweetened condensed milk, add your other ingredients and freeze it.  I started making no-churn ice creams years ago (mainly because I didn't have room for another appliance such as an ice cream maker) and I've never regretted it!  So easy!  Check out these other no-churn ice cream recipes:  Rocky Road, Coffee, Churro, Lemon, Oreo and Mixed Berry!
These cookies are a riff on my traditional Easy Funfetti Sugar Cookies.  They have an extra egg yolk and a little more baking soda which helps keep them chewy even when frozen.  Important if you don't want to chip a tooth!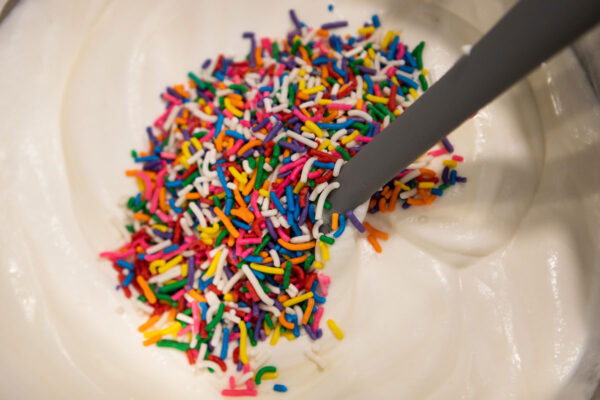 To make this super-simple ice cream, line a 9×13-inch baking pan or jelly roll pan with aluminum foil, extending over so that you can lift the frozen ice cream out.
In the bowl of a stand mixer, whip the heavy cream and clear vanilla until it thickens to medium peaks.  A lot of recipes will say to thicken to stiff peaks, but I don't like the texture of that when it's frozen.  A medium peak is just perfect!
Mix in the sweetened condensed milk and then the sprinkles.  Spread it in the pan and freeze until it's solid.  Overnight is preferable.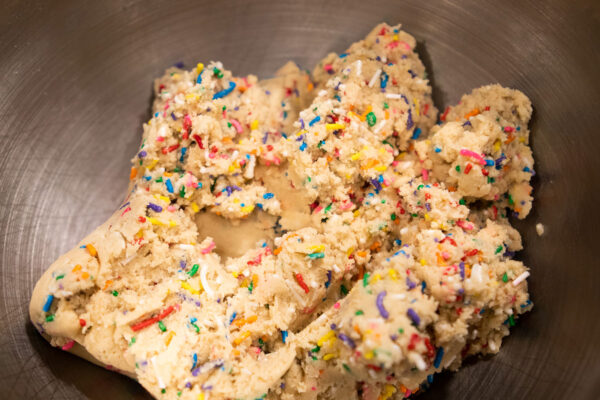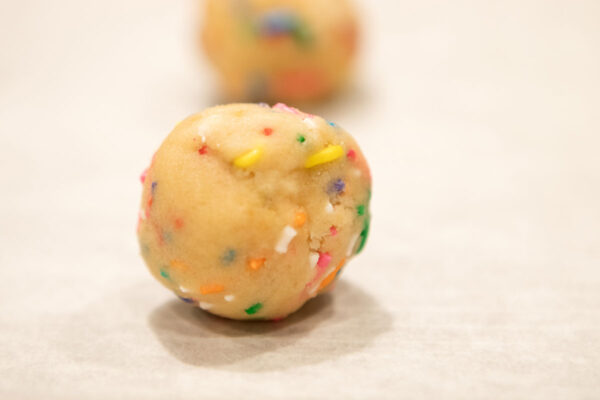 Making the cookie dough is pretty standard…cream the butter and sugars until fluffy, add the vanilla and egg, and beat again.  Add the remaining dry ingredients, except the sprinkles, and mix until just incorporated.  Now, fold in the sprinkles.
I like to chill the dough for a while to hydrate the flour.  Thirty minutes is enough time for these cookies.  Scoop and roll into balls and place the dough on a cookie sheet.  Bake for 11-12 minutes per pan.  You want them to look slightly undercooked, which will keep them soft even when they are frozen.  Let them cool completely.
To assemble these bad boys, use a cookie cutter that is a similar size to the cookies and cut out rounds of ice cream. Place the ice cream between two cookies. The ice cream melts quickly so immediately place the sandwich on a tray and put back into the freezer.
The cookies will keep in the freezer for a week if they are covered, but I would be shocked if they last that long!  Also, don't waste the leftover ice cream…just place it in a resealable container and put it back in the freezer.
This fun treat will take you back to birthday cake memories and summer frozen treats!
Lastly, if you make Funfetti Ice Cream Sandwiches, be sure to leave a review down below at the bottom of this page (stars are also appreciated)! Above all, I love to hear from you and always do my best to respond to each and every review. And of course, if you do make this recipe, don't forget to tag me on 
Instagram
! Looking through the photos of recipes you all have made is one of my favorite things to do!
Funfetti Ice Cream Sandwiches
Makes: 12 servings
Prep Time: 45 minutes
Bake Time: 12 minutes per sheet
Total Time: 45 minutes plus freezer time 6 hours20
Ingredients
For the Ice Cream:
2 cups heavy whipping cream

1 tbsp clear vanilla extract (or regular is clear is unavailable)

1 (14-ounce can) sweetened condensed milk

6 tbsp rainbow sprinkles
For the Cookies:
12 tbsp unsalted butter, at room temperature

1 cup sugar

1/2 cup

brown sugar

2 & 1/2 tsp clear vanilla (or regular is unavailable)

1 large egg plus 1 large egg yolk

2 & 1/4 cups all-purpose flour

1 tsp baking soda

3/4 tsp salt

1/2 tsp cream of tartar

1 cup rainbow sprinkles
Instructions
To Prepare the Ice Cream:
Line a 9×13" or jelly roll pan with a large sheet of aluminum foil. Be sure the foil extends just beyond the sides of the pan for easy removal. Set aside.
In a large bowl or the bowl of a stand mixer, whip the cream and clear vanilla extract on medium speed until it thickens to fluffy, medium peaks. Fold in the sweetened condensed milk, being careful to not overwork, followed by the sprinkles. Spread it into the prepared pan. Freeze until solid, at least 6 hours but preferably overnight.
To Make the Cookies:
Preheat the oven to 350°F. Prepare sheet pans by lining them with silicone baking mats or parchment paper.
In a large mixing bowl or the bowl of a stand mixer, cream the butter, sugar, and brown sugar on medium speed until light and fluffy, about 2 minutes. Scrape the sides of the bowl and add the vanilla and egg, beating on low until incorporated. Add the flour, baking soda, salt, and cream of tartar, and beat on low speed just until the dry ingredients are combined. Scrape the sides of the bowl and add the sprinkles. Beat just until combined.
Chill the dough in the fridge until it has thickened to a Play-Doh consistency- usually about 30 minutes in the fridge for me. Once chilled, scoop out 1 & 1/2 tablespoon sized scoops (I use a medium cookie scoop) and roll each dough ball briefly in your hands to smooth out the rough edges of dough. Place on the prepared baking sheets 2 inches apart. Bake in the preheated oven for about 11-12 minutes, or until the tops of the cookies have just begun to crack and the edges are set. They will look slightly under-baked. This will help to keep them soft even when frozen. Allow to cool on the sheet pans for about 5 minutes before removing to a cooling rack to complete cooling.
To Assemble the Sandwiches:
Use a large round cookie cutter or the lip of a wide-mouth mason jar to cut out rounds of ice cream. Place in between two cookies and refreeze the sandwiches quickly. You can save the leftover edges of the ice cream in a sealable container or freezer-safe bowl. Keep the sandwiches covered while in the freezer to protect their taste.
Chef's Note:
Clear vanilla extract give these cookie that classic funfetti box cake mix flavor that we all know and love. Pure vanilla extract or vanilla bean paste can be substituted, however, the flavor will differ.
Recipe by Wood & Spoon
Funfetti Ice Cream Sandwiches