No-Churn Rocky Road Ice Cream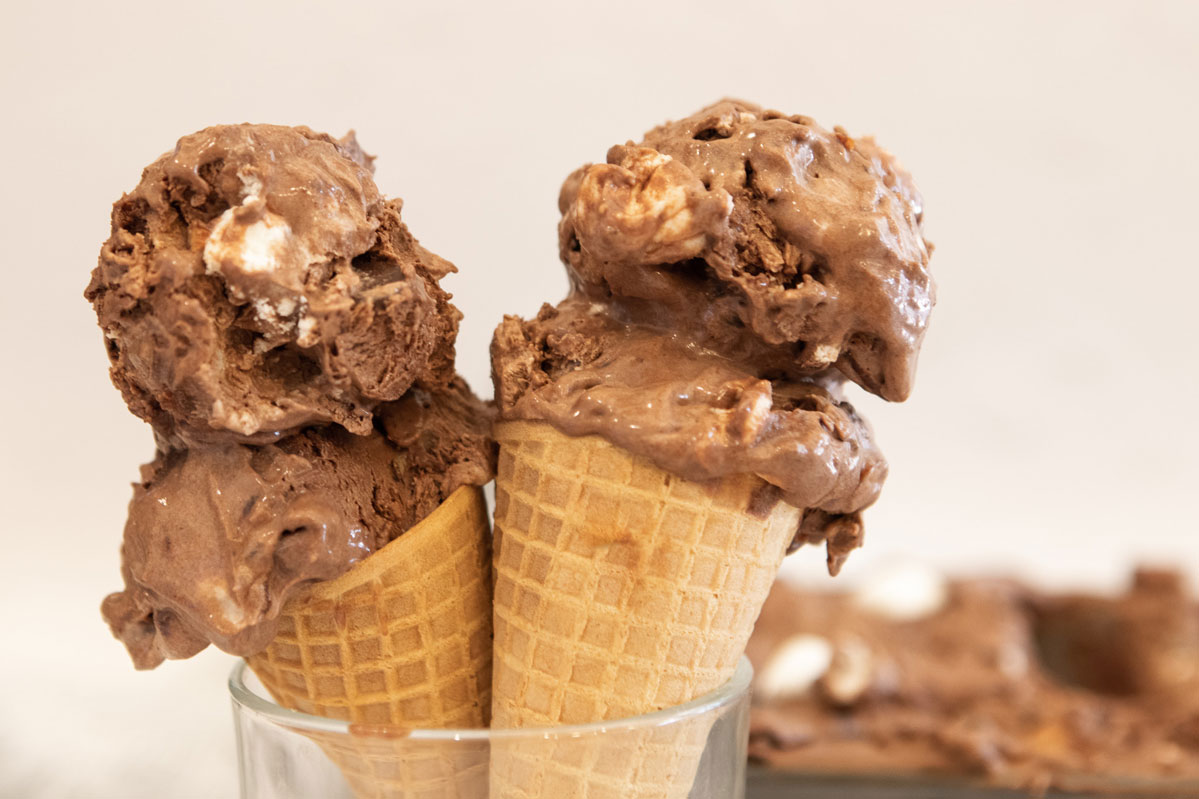 Everything about No-Churn Rocky Road Ice Cream appeals to me…no-churn (you know I love that), chocolate, marshmallows, ice cream, almonds…it all simply works!  Rocky Road ice cream is one of my favorites!
If you've never tried making ice cream, this no-churn recipe is the way to begin.  I don't own an ice cream maker and after finding these no-churn recipes, I have realized there's no reason to have another appliance in my pantry waiting for that every-so-often use.  Better to make ice cream this way!
Once you discover this technique, you'll want to try my other recipes:  No-Churn Coffee Ice Cream, No-Churn Lemon Ice Cream, No-Churn Oreo Cookie Ice Cream, and No-Churn Mixed Berry Soft Serve.  These are just a few of the many no-churn recipes posted on my website.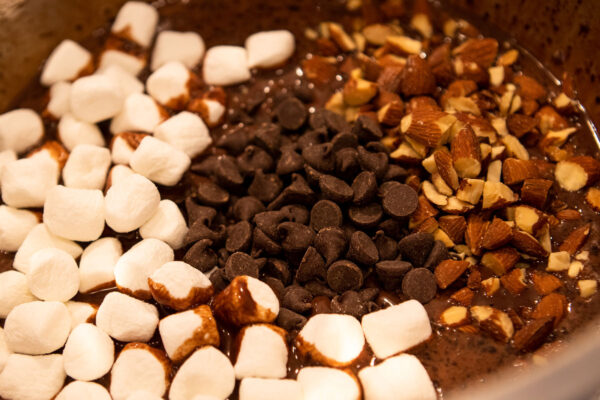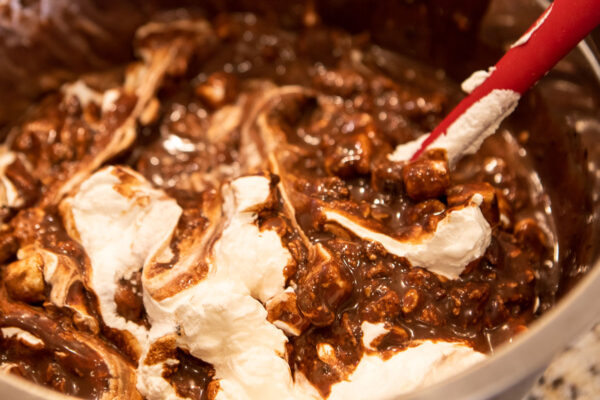 Begin this recipe by pouring hot milk over the chopped semi- and bittersweet chocolates to melt them.  Mix until smooth.
All of the remaining ingredients except the heavy cream and chocolate sauce get added to the melted chocolate.
Separately, whip the heavy cream until soft peaks form and fold it into the chocolate mixture.
In a freezable container (I use a loaf pan), layer 1/3 of the chocolate mixture and 1/2 of the chocolate sauce and swirl together with a sharp knife. Continue layering until you have 3 layers.  Top it with extra marshmallows if you like and then freeze it for at least 6 hours.
That's basically it!  Serve it and enjoy!
Lastly, if you make No-Churn Rocky Road Ice Cream, be sure to leave a review down below at the bottom of this page (stars are also appreciated)! Above all, I love to hear from you and always do my best to respond to each and every review. And of course, if you do make this recipe, don't forget to tag me on 
Instagram
! Looking through the photos of recipes you all have made is one of my favorite things to do!
No-Churn Rocky Road Ice Cream
Makes: 2 quarts
Prep Time: 10 minutes
Freeze Time: 6 hours
Total Time: 6 hours & 10 minutes
Ingredients
4 ounces bittersweet chocolate, chopped*

2 ounces semi-sweet chocolate, chopped

1 cup milk

1 14-ounce can sweetened condensed milk

1 tsp pure vanilla extract

1 tbsp

unsweetened cocoa powder

1 tbsp fresh lemon juice

pinch

salt

3/4 cup miniature marshmallows

1/2 cup roasted salted almonds, chopped

1/2 cup chocolate chips

2 cups heavy cream

1 cup

5-Minute Chocolate Sauce

(may use store bought hot fudge topping, NOT chocolate sauce)
Instructions
Add the chopped chocolate to a large bowl. Set aside.
Bring the milk to a near boil in the microwave or stovetop and pour it over the chopped chocolate. Let sit 5 minutes, then stir until smooth and chocolate is melted.
Stir in all of the remaining ingredients EXCEPT the chocolate sauce and heavy cream.
In a separate bowl, whip the heavy cream until soft peaks form then fold cream gently into the chocolate mixture.
In a 2-quart freezable container, layer 1/3 ice cream, drizzle 1/2 chocolate sauce and swirl with a knife, then layer 1/3 ice cream and drizzle almost all remaining chocolate sauce and swirl. Top with remaining ice cream and remaining chocolate sauce and swirl.
Cover with plastic wrap or waxed paper pressed directly on the surface of the ice cream (to help prevent ice crystals), and freeze for at least 6 hours or until frozen.
Chef's Note:
Any container (plastic, metal, etc) will work as long as it is NOT glass. You can even divide among multiple containers. The more shallow the containers, the faster the ice cream will freeze and be ready to eat. I used my cheesecake springform pan.
Recipe by Carlsbad Cravings
No-Churn Rocky Road Ice Cream